The garage is more than a space to store a car, and it can easily become a more usable space with a refined look. ModuTile designed a distinct, full range of Garage Floor Tiles that can make a dull, boring garage appear bright and refined. Our interlocking garage flooring options are equipped to serve homeowners with not only a variety of stylistic preferences but also a variety of materials to meet your project needs.
ModuTile specializes in easy-to-install garage floor coverings that consist of interlocking garage tiles made from either high-impact polymer or flexible PVC. Our best selling tiles (made of high-impact polymer), come in nine different colors with three different patterns. Both high-impact polymer and flexible PVC tiles can withstand the weight of any type of car, truck or SUV. Because the interlocking tiles use a unique loop to peg joining system, the tiles will not separate under the pressure of a turning car wheel. The products listed below are suitable for residential garage floors.
Garage Floor Quick Start Guide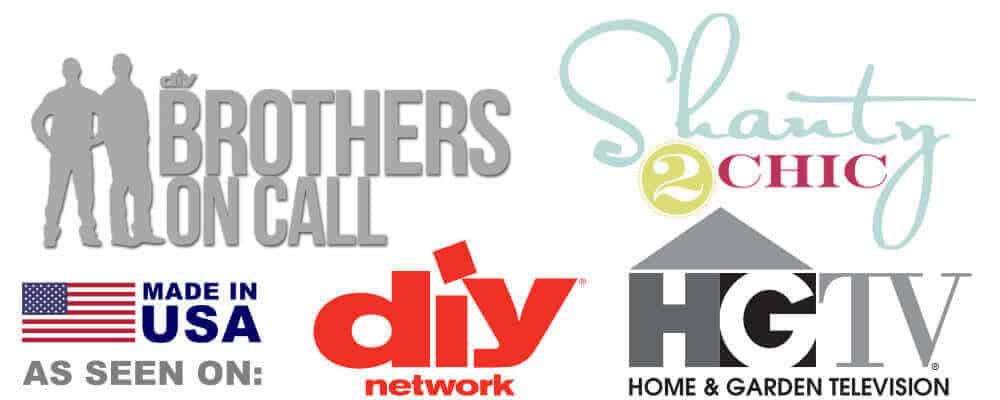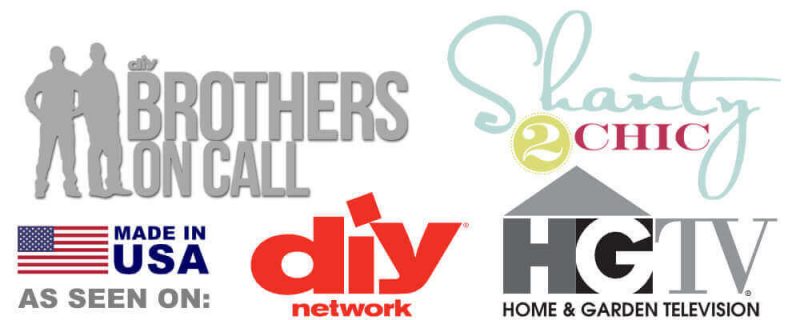 Plastic Garage Floor Tiles
Coin Top, Diamond Top and Perforated polypropylene plastic garage floor tiles are our best-selling floor tiles. Not all plastic tiles are the same. ModuTile garage floor tiles are made from a high-impact polypropylene plastic material that is lightweight and strong enough to support heavy rollover loads. They come in a variety of colors and can interlock together to create a unique, custom sized floating floor.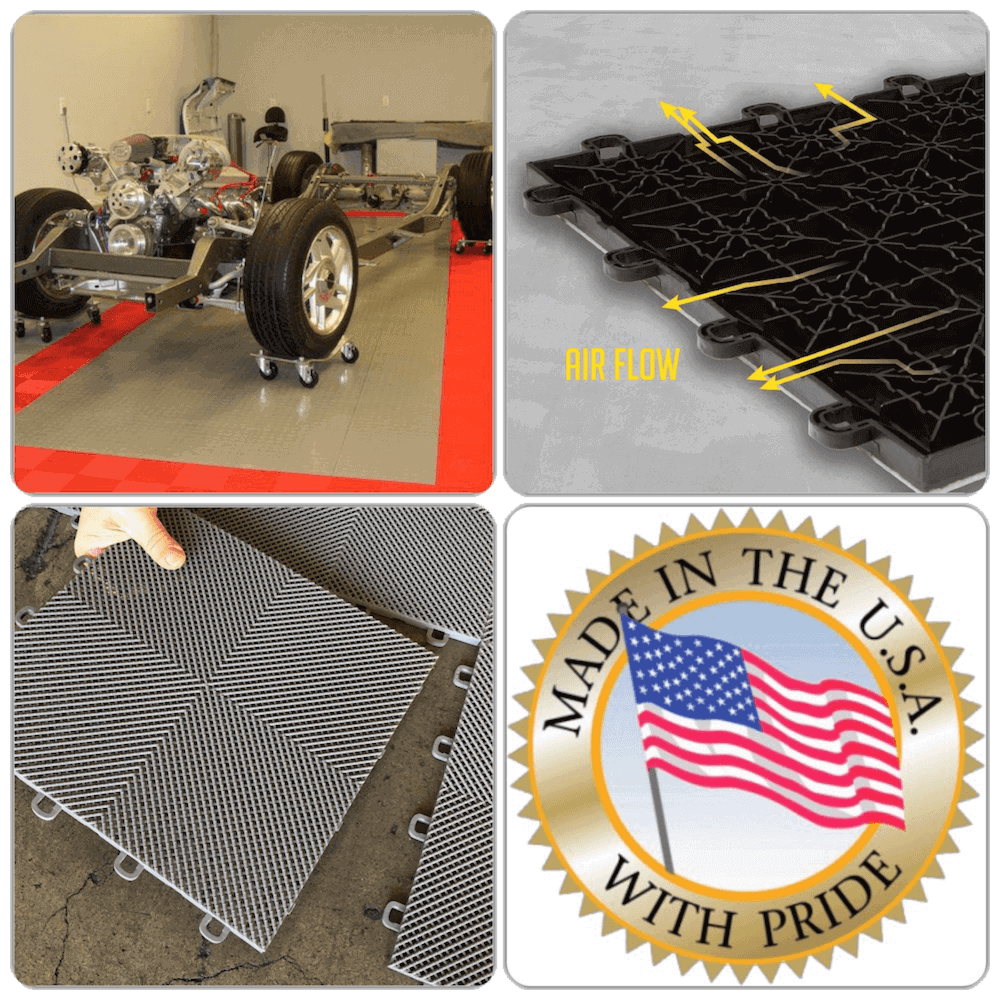 Tough material + Smart design = Heavy load capacity and air circulation for your Garage Floor
Made from High-Impact Polypropylene material strong enough to support vehicles weighing up to 40,000 pounds
The grid structure creates a floating floor with an air gap between the underlying concrete and the top surface of the tile to allow moisture to escape from underneath the tiles
Locking System easily connects the tiles together and keeps them together
DIY Installation, no special tools or chemicals are required
Low maintenance tiles are easy to clean and stain-resistant
Made in USA
Modular Interlocking Garage Floor System
The tiles interlock with a loop to peg system; two sides have loops and two sides have pegs.
Coin-top, Diamond-top, Perforated tiles, and Ramp Edging are all compatible with each other
Looping mechanism allows room for expansion once they are interlocked together.
Modular interlocking system is specifically designed not to buckle.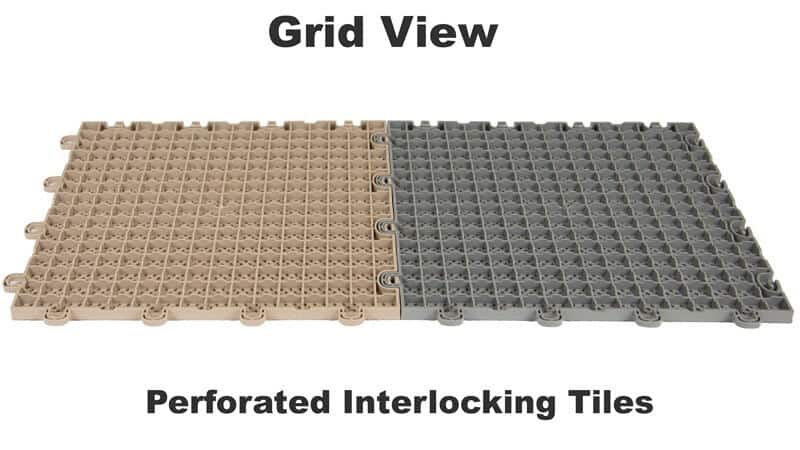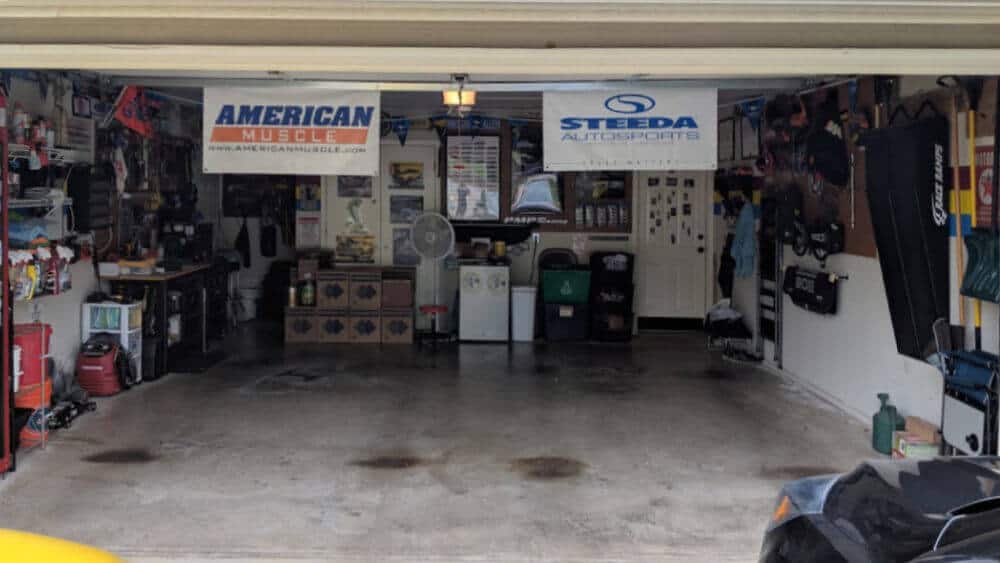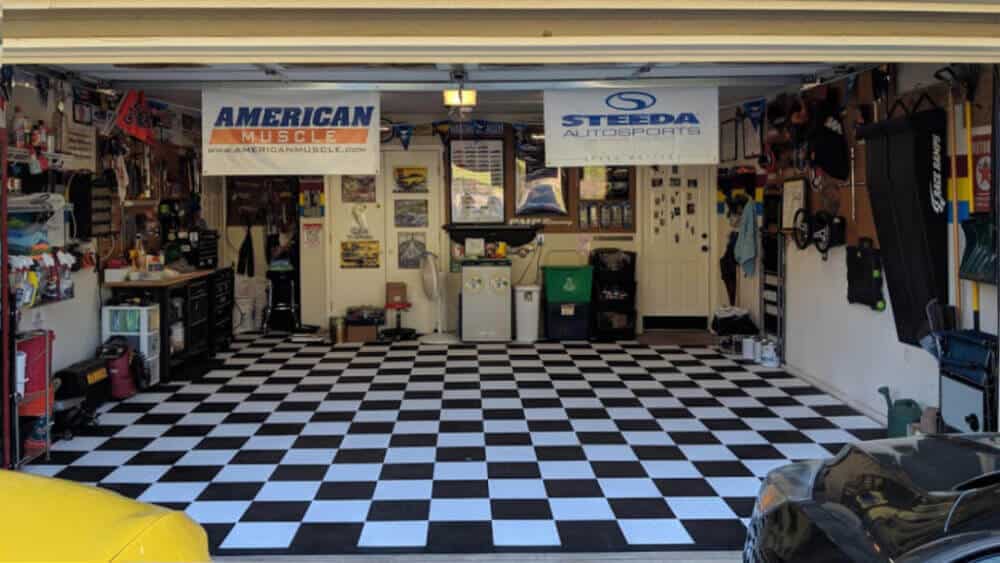 ModuTile Before/After Garage Floor Pictures
Visit our garage floor picture gallery for more ideas and examples. The tiles interlock easily to cover your ugly old concrete garage floor. Although it is hard to see, the image shows a garage floor installation using the Coin Top Interlocking Garage Floor Tile.
Flexible PVC Interlocking Garage Floor Tiles
Made from Flexible polyvinyl-chloride, also referred to as synthetic rubber, is a special type of PVC that is made to be flexible, yet profoundly strong.
Since the tiles are flexible, they should be used on a rigid surface.
Solid construction – there is no grid structure below the surface.
Anti-fatigue surface with acoustic insulation quality.
Feature a textured, slip-resistant surface.
Ideal for garages that have been converted to a gym, game room, or workshop.
Made in USA
Plastic Garage Floor Tiles and Flexible PVC Garage Tiles are the two commonly available types of residential garage floor tiles found in the USA market. When it comes to residential garage flooring, both types of tiles have excellent performance and can handle the weight and traffic from a typical residential garage. Click the button below to learn the about differences.
Garage Floor Tile Edging
Interlocking ramp edges and corners to attach to 12×12-inch garage floor tiles and 18×18-inch Flexible PVC garage tiles.
Garage edging provide a transition for driving onto the flooring from your driveway.
The edges and corners are available with or without loops.
Ramp edges with loops are recommended when installation begins at the garage door opening.
Ramp edges with and without loops plus four corners can be used to create a garage floor mat.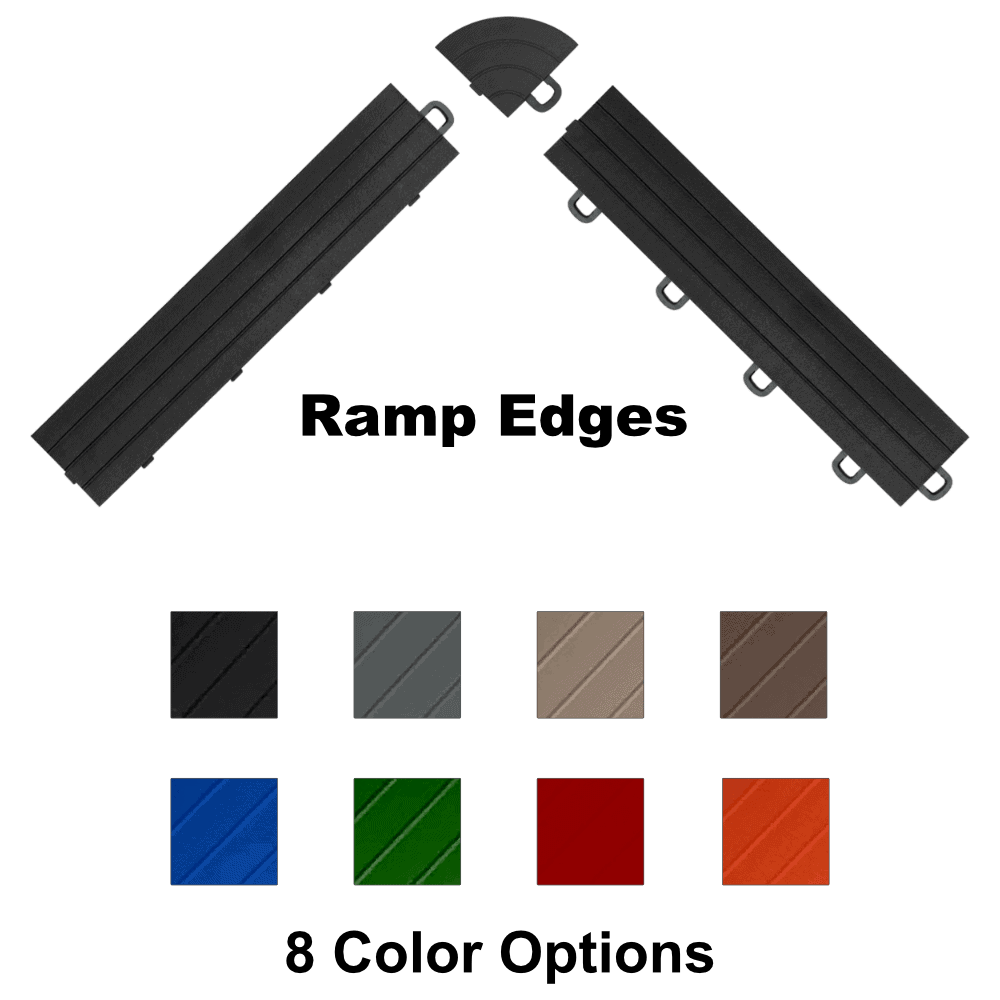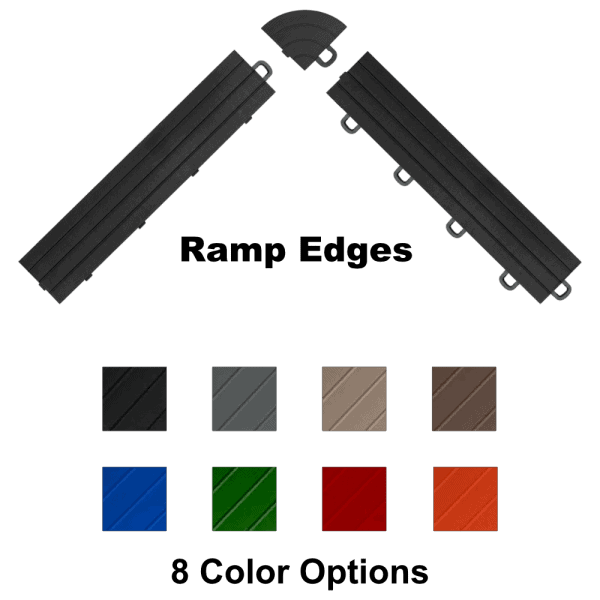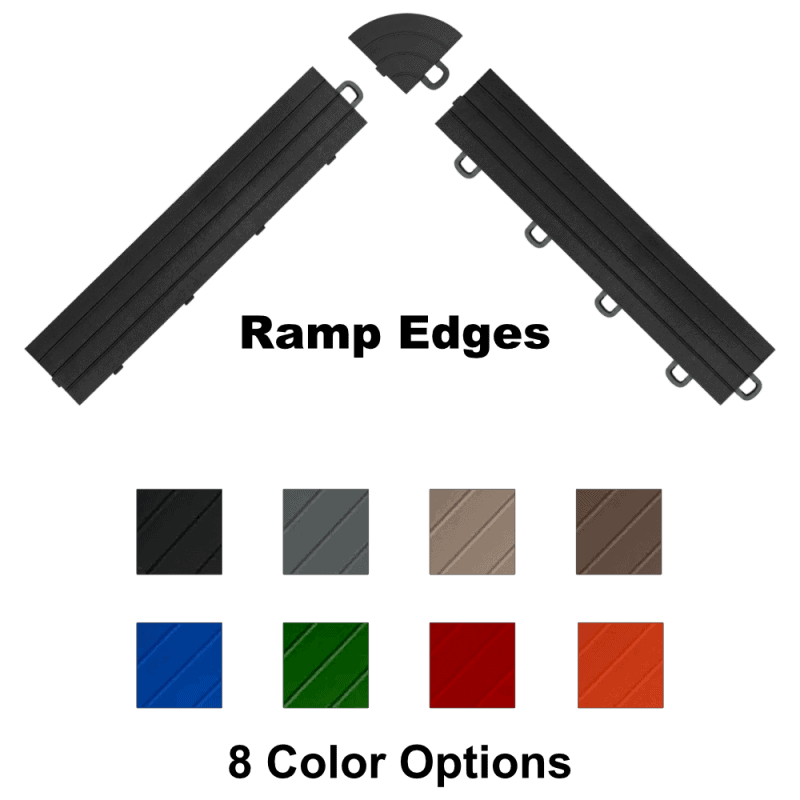 Buy Garage Flooring
ModuTile Garage Floor Tiles are Proudly Made in the USA

Visit our garage product section to choose from various colors and designs.
Buy Garage Flooring
ModuTile Garage Floor Tile Reviews
ModuTile products have been proudly made in USA since 2011. We love hearing back from our valued clients and sharing their feedback with prospective customers. Here are some authentic reviews from happy customers. They continuously amaze us with their creativity and their practical uses of our tiles to solve their flooring issues.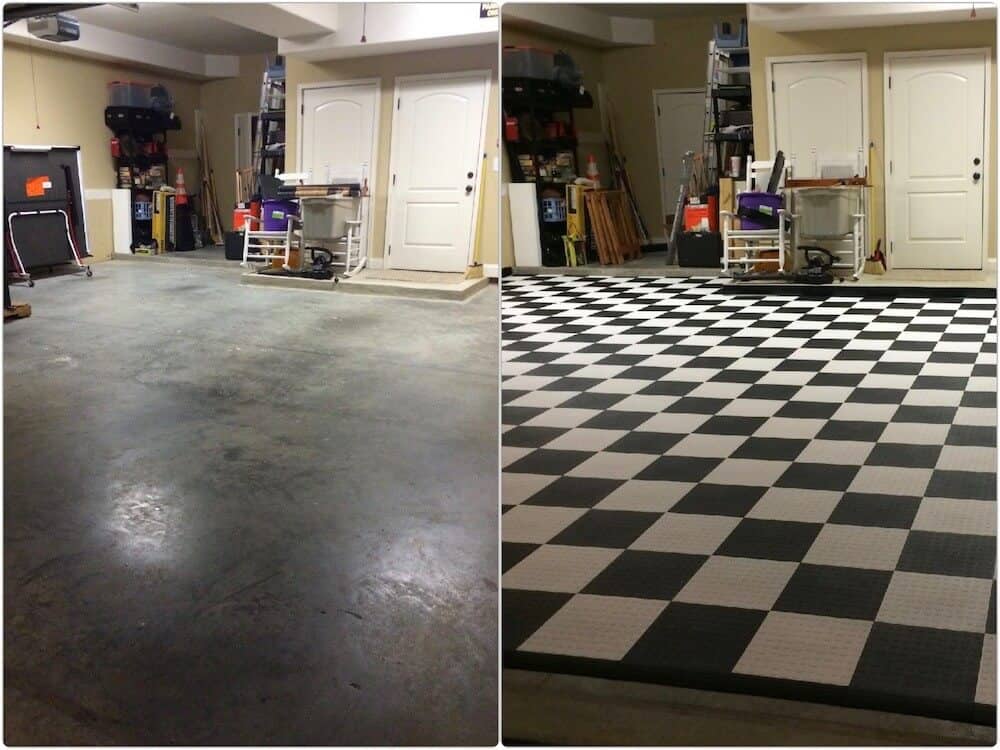 Every visitor has told us how much they love our new garage floor. I really enjoyed this project. I'm hoping my friends decide to finish their garage so I can help them.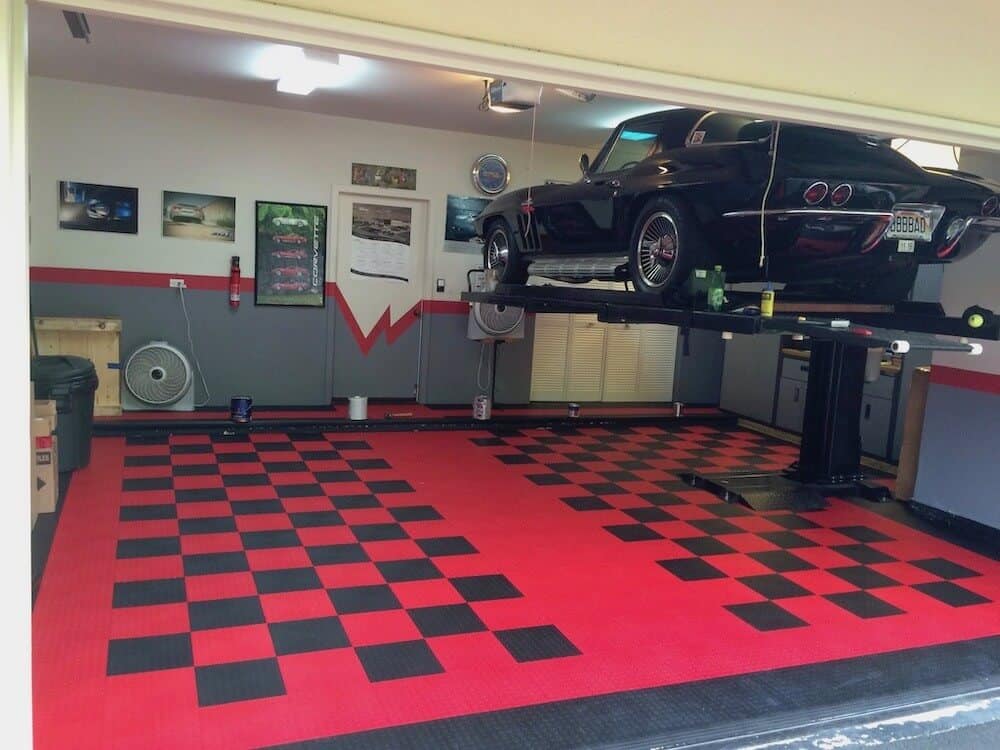 I recently installed your coin style tile in my garage and love it. Easy to install, took about 1 day for a 400 sq ft garage.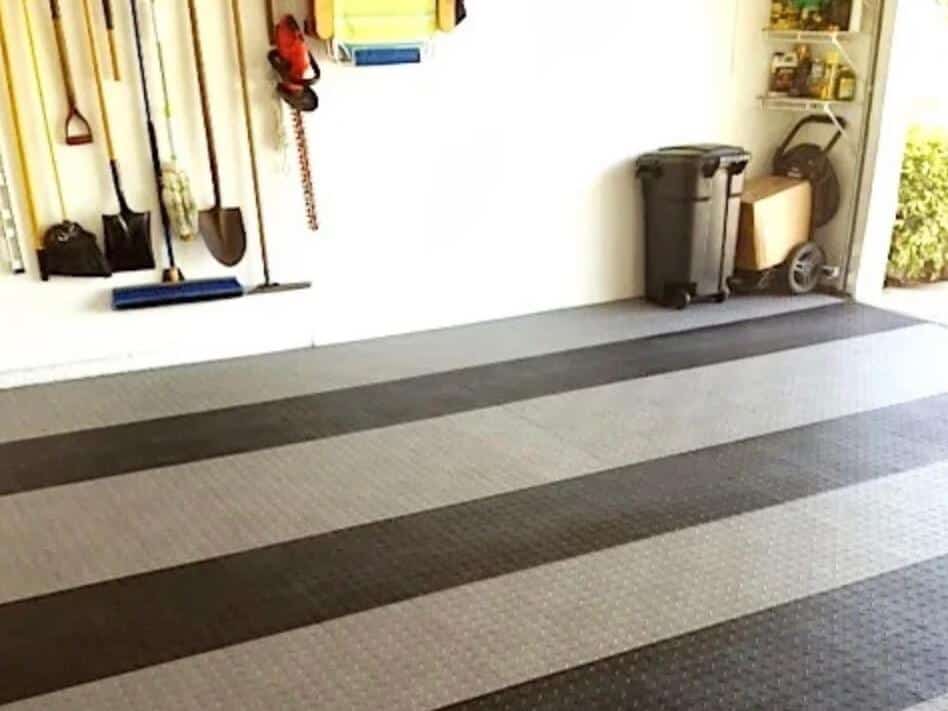 I had a standard 2 car garage with an epoxy covered floor. Over time the epoxy started peeling and coming up in large sections (a real mess ). I installed your diamond floor tiles over top and I couldn't be happier. It looks great.
Your garage tile questions, answered.
The preferred method of cutting our high-impact polymer tiles is to use a jigsaw (fine tooth blade).
You can cut the flexible PVC and the perforated garage floor tiles with a utility knife. Other types of blades can also cut these types of tiles, but we do not recommend them. Please use a jigsaw and follow the recommended directions and warnings from the manufacturer.
Keep in mind that if you do cut a tile, then you would not be able to attach a ramp edge to it. So, if you do need to cut the tiles when installing them in a garage, you will want to consider cutting the row at the back of the garage instead of the garage door entrance. This way, you would retain the option of attaching the ramp edges to the tiles so that your vehicle can comfortably drive onto the garage flooring from your driveway.
Although these tiles are stain, slip, and mold resistant, it is important to properly maintain them. Sweeping away debris regularly. We have noticed that Swiffer products (e.g. the SweeperVac, Duster, and WetJet) collect dirt effectively. As needed, you can simply wipe the tiles of any dirt and wash them with a mild soap and water solution and a soft rag or damp mop. For harder-to-remove stains, such as oil spills, grease, paint, etc., we recommend for you to use a degreaser such as Goo-Gone or Zep. These degreasers have been successfully tested on our tiles. You can leave the degreaser on the tiles for up to five minutes before wiping it away.
For best results, we recommend that you disassemble the tiles with a putty knife (carefully) one to four times yearly to sweep or mop your subfloor of any stains, liquid, or debris that may have crept its way down through the cracks of your tiles.
When using our 12×12 inch garage floor tiles, you can simply multiply the length by the width (in feet) of the garage to calculate the number of tiles you need to cover the floor area. For example, if you have a room that is 20 feet by 20 feet, you would need 400 tiles. You should round up if the length or width of the room is not a whole number. If the length of the room is 19 feet 4 inches, then use 20 feet in the calculation of the floor area. We recommend that you leave at least ½-inch of space between the tiles and walls or permanent structures because the tiles expand and contract with temperature fluctuations.
If you will need to cut the flooring to install it around any permanent structures such as columns, stairways, or walls, you will need to add about 6% to the square footage for the total number of tiles needed. In general, when the project requires cutting, you can expect between 4% to 7% additional tiles to account for waste.
ModuTile Flexible PVC garage floor tiles measuring 18 x 18 inches and cover 2.25 square feet each. If you have a garage that is 20 feet by 20 feet, then you divide 400 square feet by 2.25 to determine the number of tiles needed. When reviewing the Flexible PVC tile product page, you can enter the square footage of your project area and see the quantity of tiles needed for coverage automatically populate.
Unlike epoxy paint, garage floor tiles do not peel off when cars park on top of it. Your vehicle's tire pressure against the floor is simply too high even when parking small sports cars. Generally, it will take six months to a year to start seeing the effects, but you will see them. We have yet to see an epoxy floor paint hold up when a vehicle is parked on top of it on a regular basis. Many of our customers try to use epoxy first and later end up buying our garage floor tiles. Our garage floor tiles (impact polymer types) are much simpler to install and will look and feel new for many years.
The following is a brief explanation of the locking mechanism, the starting point, and the proper way to align the tiles. Click on Quick Garage Floor Installation Guide for additional information.
Loop-to-Peg Interlocking System
ModuTile garage tiles interlock using a loop-to-peg system. They are DIY ("do it yourself"), which allows you to save money on installation. The interlocking garage floor tiles have two sides with "loops" and two sides with "pegs". Please refer to FIGURE 1 for illustration.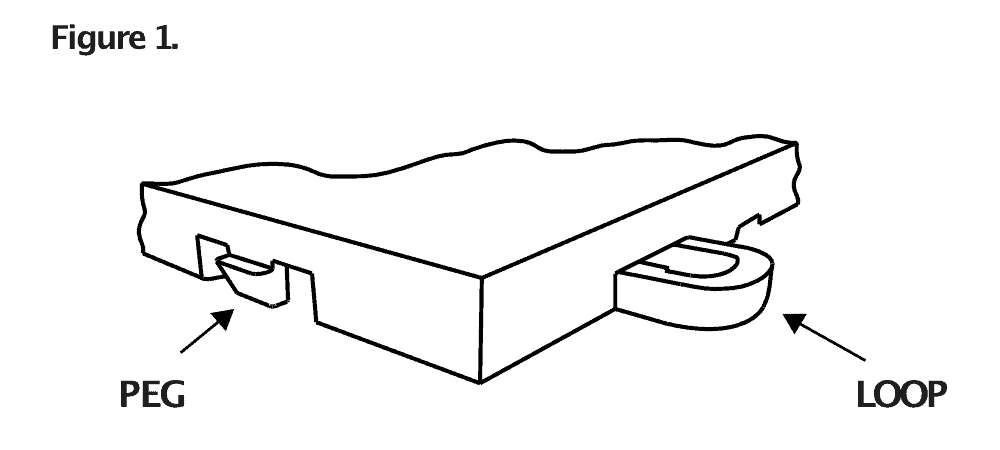 Installation Starting Point
We recommend that you begin the installation from a corner on the side of the garage door opening (see FIGURE 2). Make sure you align the tile ramp edges (sold separately) just inside of the door or gate. Be sure that the edges used at the side of the garage door opening are the edges with LOOPS.
Aligning the Garage Floor Tiles

IMPORTANT: Point the garage tile LOOPS to the back of the garage and the opposite wall from where you begin the installation. This will allow you to snap down the next tile making it easier to install.
Align the garage tiles pointing the LOOPS the same direction as the previous tile (see FIGURE 3). This allows you to snap down the next tile down making it easier to attach. Make sure you align the pegs and loops correctly and apply pressure down-ward on the tile directly over the loops using your hand or mallet. The tiles will snap snugly into place. Assemble your garage oor one row at a time following the desired color pattern.
Tools are not necessarily required because the tiles can be connected by simply snapping them together with your hands. However, since we know many of you are installing large areas, you may consider using a small plastic mallet and knee pads to further ease your installation. The interlocked tiles create a floating floor, which does not need to be glued or screwed down.