Your patio or deck can be the most enjoyable part of your home and feel like an extension to your living area when it is nice and comfortable.  If you have a concrete patio or a wooden deck, you can enhance the floor area by covering it with ModuTile interlocking patio floor tiles.  Adding the perforated patio tiles over your deck or patio floor is an affordable and practical way to cover and protect an ugly or damaged surface and get back the peaceful, easy, backyard feeling you want.
The transformation can be effortless. ModuTile offers a variety of perforated interlocking floor tiles that are ideal for deck or patio surfaces. Installation is a DIY (do it yourself) project that does not require any special tools or chemicals. They are an ideal solution because they are strong, rigid, durable, and can withstand outdoor weather.
Since the tiles are available in a variety of colors, you do not have to stick to just one color when installing the flooring. You can select the best color(s) to complement your outdoor furnishings. You could also create a checkerboard pattern using two different colors or use your imagination to create a unique design.
Patio Floor Quick Start Guide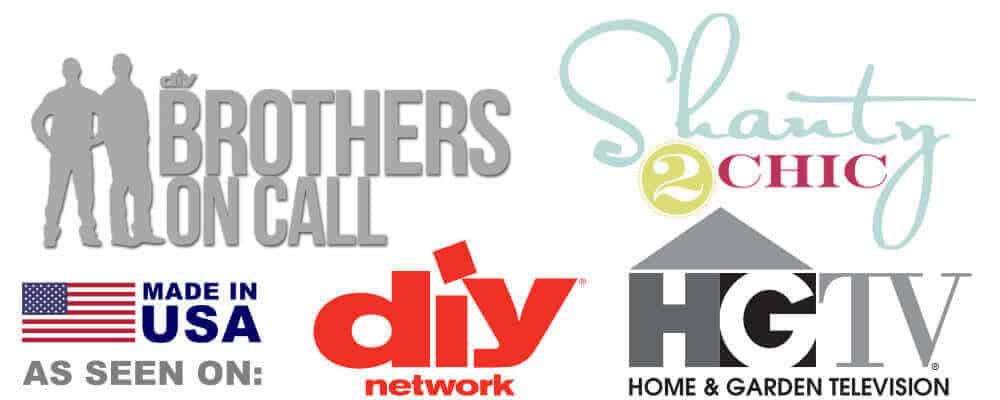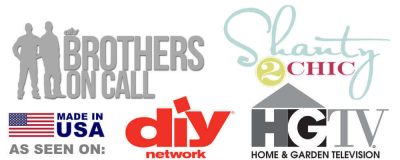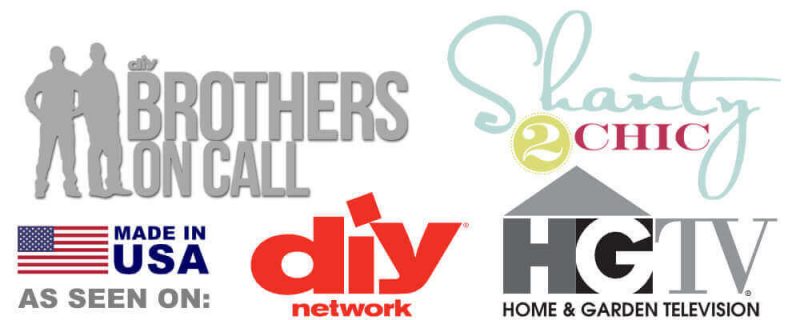 Plastic Deck and Patio Floor Tiles
Our deck and patio floor tiles have a crisscross pattern (with holes) that makes it easy for water to go through. When considering a flooring solution for your outdoor living area, you will want an option that is designed to easily allow water to drain. A ventilated floor surface (that enables air to flow underneath) is great for a deck floor.
Weather Resistant Interlocking Patio Floor Tiles
A floating floor made from rigid, durable UV-Protected Polypropylene (plastic) material that can protect your patio or deck subfloor and support a grill and heavy outdoor furniture
Interlocking Patio Tiles installs fast and easy
12 x 12-inch dimensions, so each tile covers one square foot
Attractive, slip-resistant surface that appears to be two-toned when viewed at an angle
The open (mesh) design allows air and water flow so that moisture escapes from underneath the tiles
The Loop-to-Peg Interlocking System easily connects the tiles and keeps them secured to each other
DIY Installation, no special tools or chemicals are required
Use our Outdoor Patio Tiles over Concrete
Specially created high-impact polypropylene (plastic) creates a rigid mesh surface that will effectively cover any stains or imperfections on your backyard patio concrete
Easily renovate your concrete patio and transform the area into a beautiful, comfortable living area
Stain-resistant and slip-resistant, so they are family and animal friendly
Liquids will drain below the surface and moisture will evaporate up from the concrete below
UV protection for outdoor use.
The interlocking floor is easy to remove for cleaning or transport to a new location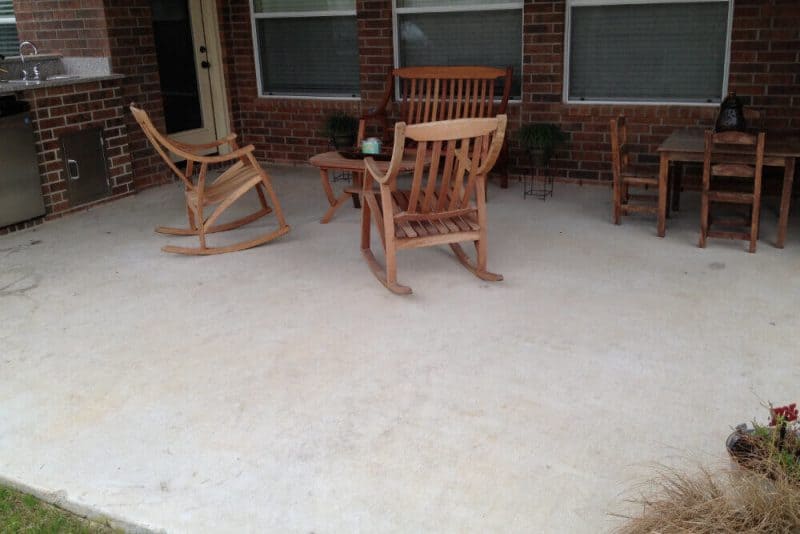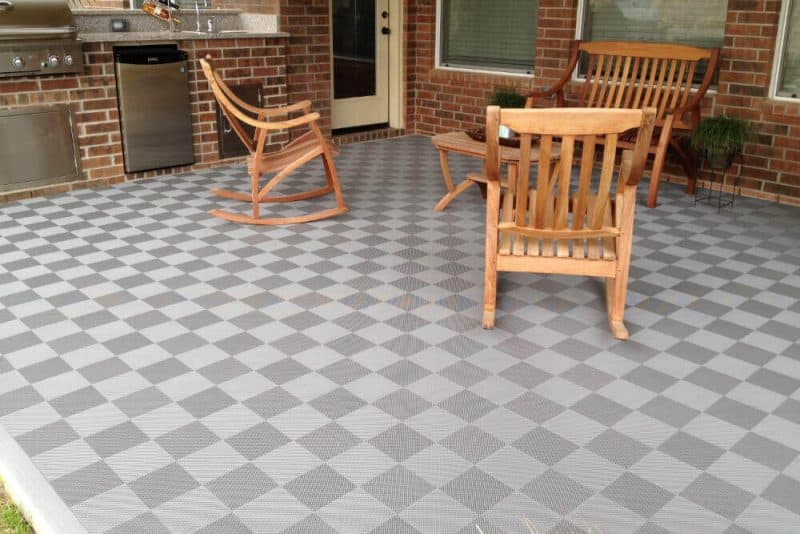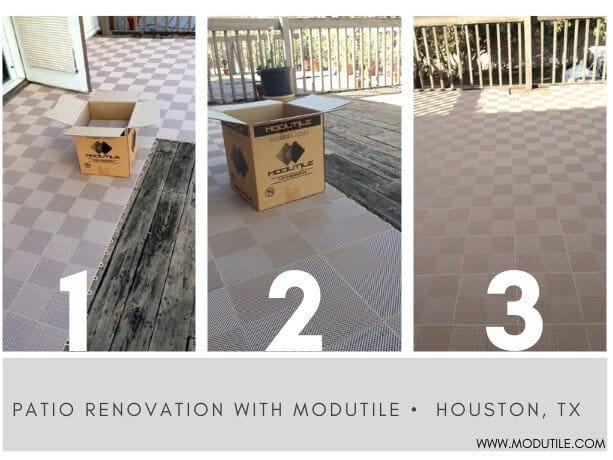 Deck Floor Tiles to the Rescue!
Your deck can be renewed by covering it with durable, interlocking tiles
Perforated tiles made in USA
Strong, loop-to-peg interlocking system makes installation easy, breezy
Water drains down through the perforations
Specially formulated high impact plastic can support your heavy outdoor furniture
Made in the USA
Patio Floor Tile Edging
ModuTile manufactures two types of edges for the loop-to-peg interlocking floor tiles. We call them "Ramp Edges WITH Loops" and "Ramp Edges NO Loops". The names refer to the loops on the long side of the ramp edge. Because the tiles are modular in nature, you have the option to select either type of edge for your installation. There is no right or wrong decision. Some customer feel strongly about using the edge pieces to form a border around the perimeter of the flooring and plan their installation project accordingly.
You would need to decide whether you want to use the edging before you plan the installation and purchase the tiles for your deck or patio. If you cut the tiles so that the floating floor meets the exact dimensions of your concrete or wooden subfloor, then you will not be able to attach edge pieces to the cut tiles because you will have removed the locking mechanism.
You may not need to use the edge pieces for your patio if grass reaches the edge of your concrete and there is no need for a border.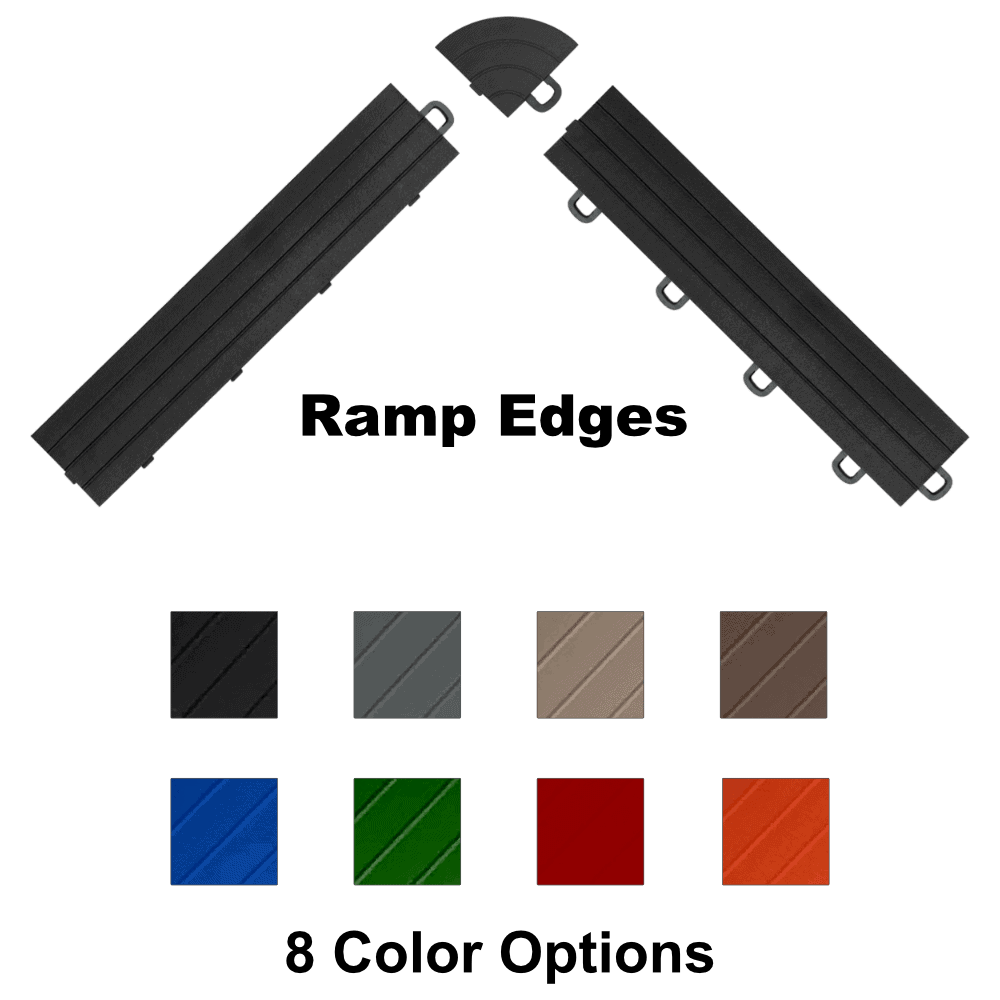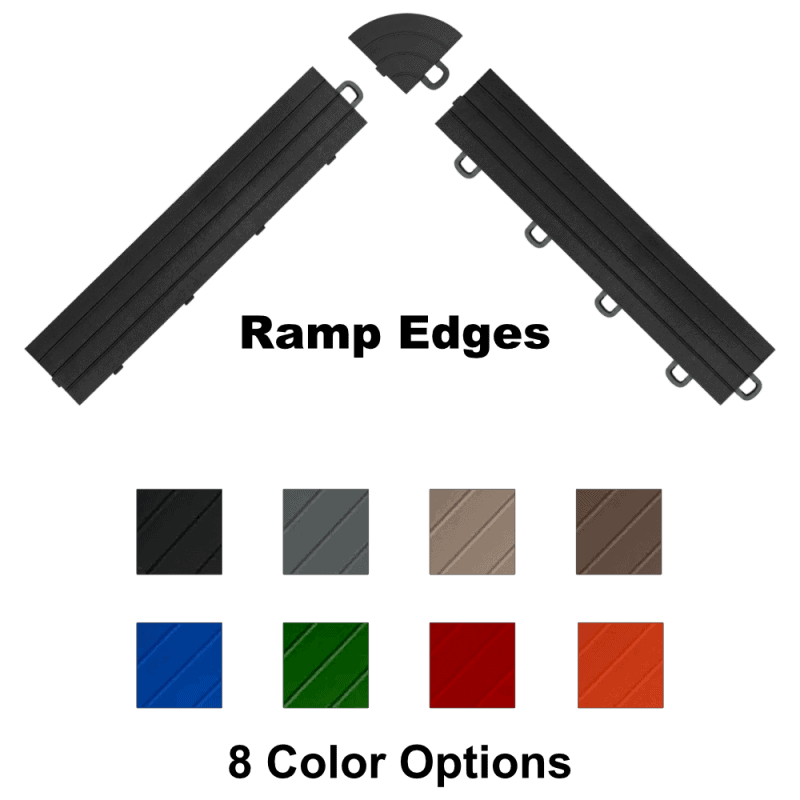 Buy Patio Flooring
ModuTile Deck and Patio Floor Tiles are Proudly Made in the USA

Click on the button to see our deck and patio floor tile options.
Buy Patio Flooring
ModuTile Deck and Patio Floor Tile Reviews
Our tiles were designed for use in residential garages, but our customers quickly let us know that they are also ideal for decks and patios. They easily support the weight of outdoor furniture and allow water to flow through them.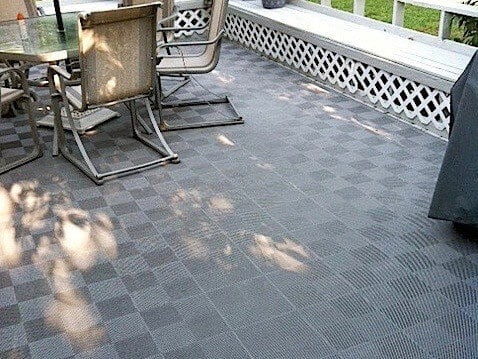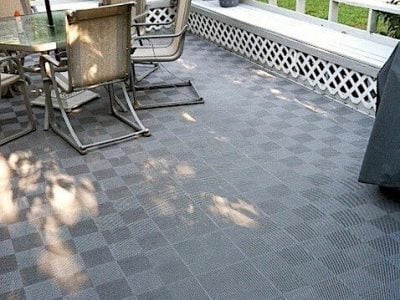 After painting our 30-year old deck annually for the past several years, my husband and I decided to try your product, and we are very glad we did. It has exceeded our expectations. The tiles were easy to cut and install. I am retired and installed 350 sq.ft in an afternoon. Thanks for a great product and excellent customer service.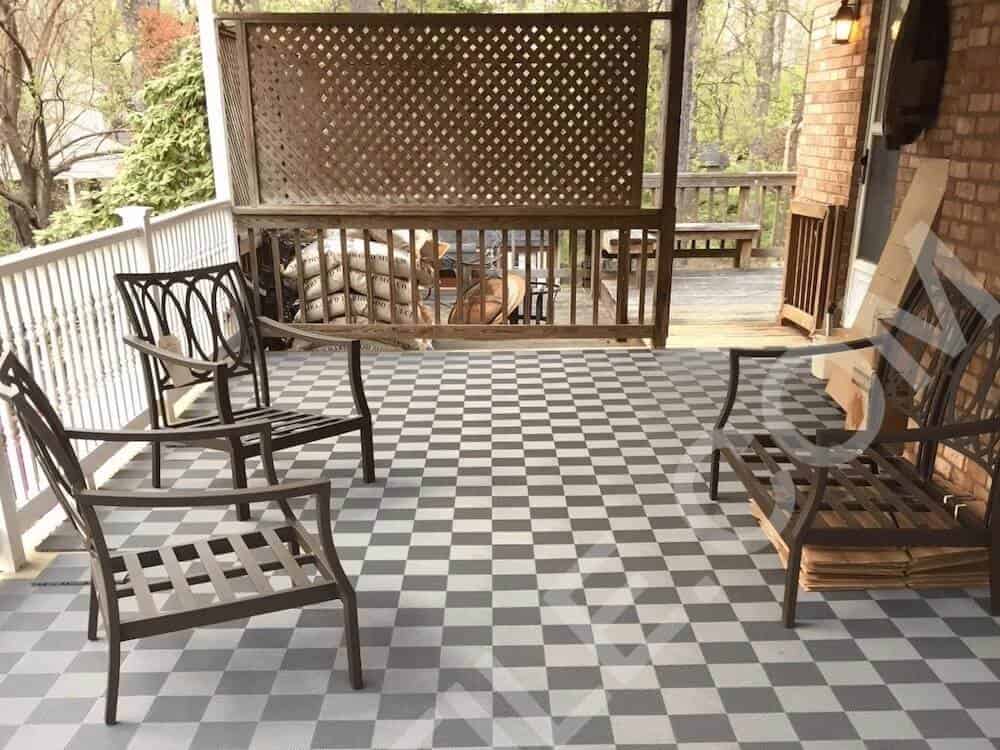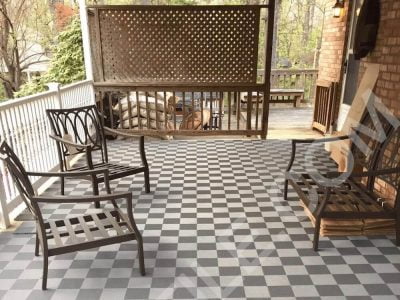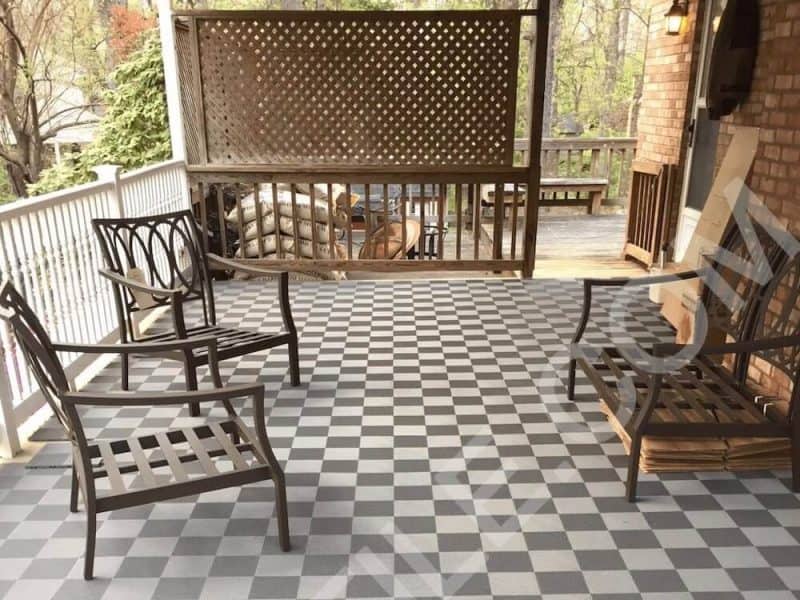 We were looking for something simple to dress up our carport, which we use in the summertime as extra outdoor seating out of the sun or the rain. The modutiles were a fantastic solution. Ordering was simple and installation was a snap. So easy, my kids and I finished it in under an hour, while the wife was out. Perfect Mother's Day surprise!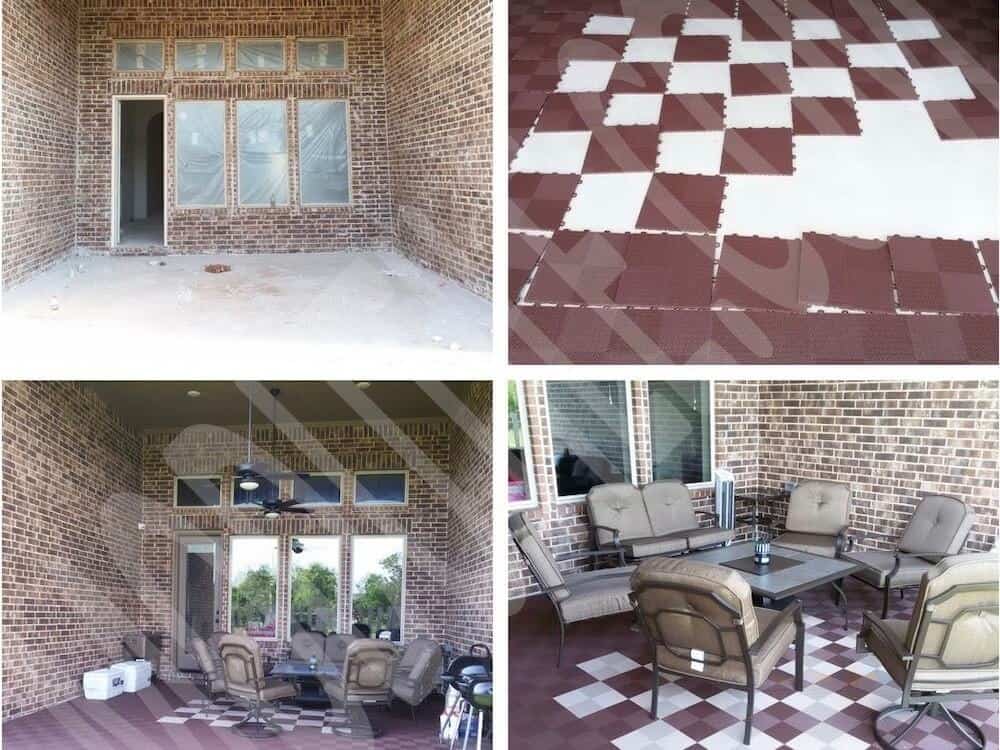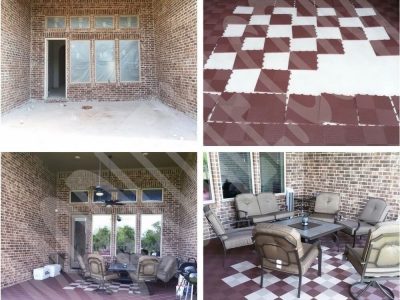 I completed my back patio a few months ago and I complied all the pics that I took. I am will be buying more in the future for my garage since these tiles are awesome. Hope we can work an even better deal since my garage is over 900 sq ft. You will be hearing from me soon. Let me know when you post them up on your website :)