ModuTile interlocking permeable pavers are intended as a substitute for concrete or other solid surfaces where additional structural support is needed. Specifically, ModuTile interlocking pavers are designed to increase ground support for vehicular and pedestrian traffic while allowing water to flow from the surface down to below the paver.
The permeable paver features help prevent surface water runoff. The pavers can also eliminate standing surface water when installed with an angular rock sub-base. They can be used with gravel or grass surface, all while maintaining structural support to prevent rut. Also, when using the paver in combination with gravel, the pavers will reduce material runoff.
Major Permeable Paver Benefits
Interlocking Permeable Paver Uses
Permeable Paver Driveway
Are you considering a permeable driveway? Construct your gravel driveway using ModuTile plastic pervious pavers. It will help you maintain structural integrity while preventing the loss of gravel. These types of driveways will also improve drainage and reduce water runoff.
Grass Driveway Paver
Are you creating a grass driveway for boat parking on your back yard? Using grass pavers can solve rut problems. ModuTile pavers will allow you to add structural support without the need to use concrete. Our interlocking pavers are great for DIY installers.
Gravel Paver Parking
Do you need to expand your residential or commercial parking? Using permeable pavers, in combination with gravel, gives you excellent drainage and ground stability. Using a 5/8" angular rock on the top layer can increase the property's curve appeal.
Permeable Paver Pathways
When you need a durable pathway or walkway that allows drainage, permeable pavers are a great option. Using permeable pavers lowers rut while improving water drainage. Moreover, it will decrease gravel runoff due to increased structural integrity.
Pervious Sport Base Floor
Are you ready to build your backyard sports floor court? Use permeable pavers as a base to create a cleaner, more environmentally friendly solution when compared to concrete. Additionally, it will create a solid surface while allowing water drainage. will create a solid surface while allowing water drainage.
Pervious Small Building Base
Are you building a shed or a house for your pet? ModuTile's interlocking permeable plastic pavers will help keep the base dry while providing a strong support structure. We offer 4-pack or 20-pack small case quantities for your convenience.

Permeable Pavers as a Concrete Alternative
Concrete is an indisputably great material for construction projects. It is strong and durable when installed correctly. However, concrete contributes to greenhouse emissions. By some estimates, cement (a component of concrete) can account for about 8% of all human-made CO2 emissions. Additionally, concrete surfaces contribute to water runoff due to its low porosity.
In contrast, ModuTile interlocking permeable paver is made from post-consumer HDPE plastic. We repurpose plastic that may otherwise end up in landfills. The paver's purpose is to help create a stable, durable gravel or grass base. After installed, it is permeable, so it helps reduce material and water runoff. Depending on how it is installed, it can serve as a water retention method for your property.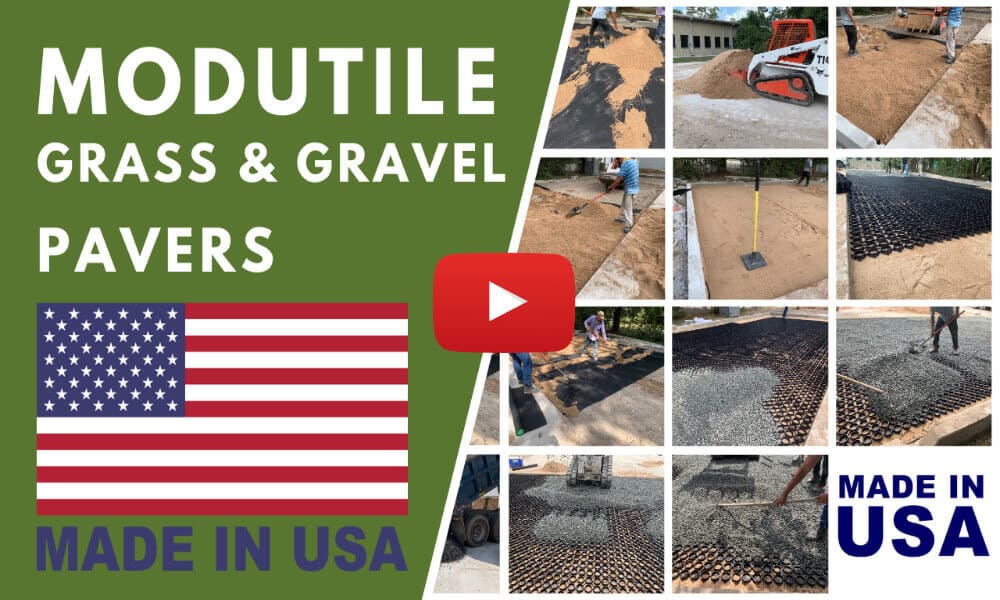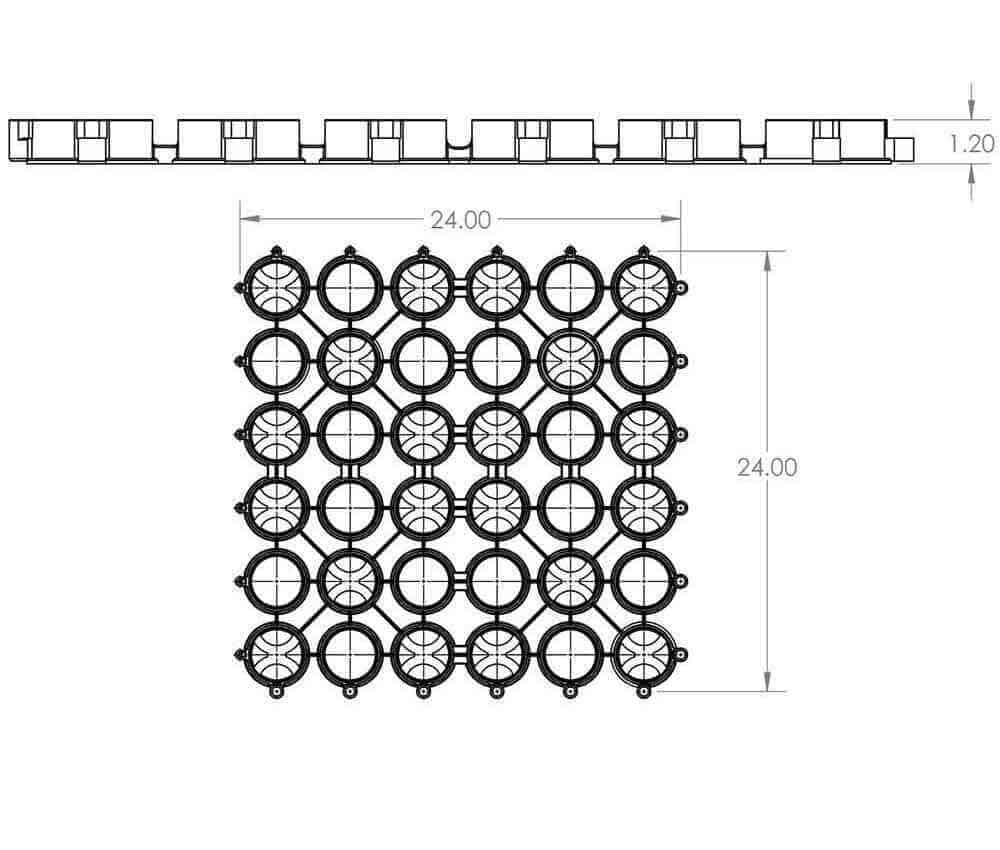 Plastic Pavers Increase Ground Structural Strength
ModuTile's pavers interlock with a pressure-pin locking system. After installed, it creates a large, homogenous surface where aggregate is added and compacted. This makes a hard, stable surface that can support the weight of large trucks and other vehicles. When installed correctly, the paver will allow water to flow below the surface preventing rut from vehicle tires. In fact, the pavers are strong enough to drive on top of them even before you fill them with aggregate material.
Plastic Pavers from Recycled Materials
The pavers are constructed from post-consumer recycled plastic. Using post-consumer resource material instead of extracting new, raw material results in a smaller carbon footprint and reduces the amount of waste sent to landfills. It also reduces the energy consumption involved in constructing the tiles and the number of microplastics in the environment.
The Association of Plastic Recyclers (APR) published a study on January 28, 2019 that examined recycling processes. It concluded that using recycled plastic reduced total energy consumption by 88% for HDPE while limiting emissions by 71%.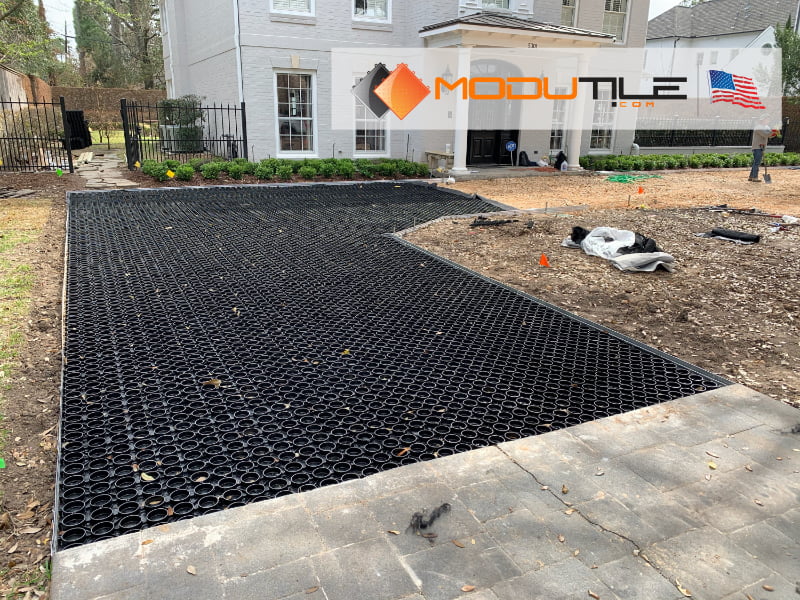 Gravel Paver Driveway
A gravel paver driveway filled with angular rock will improve water drainage while maintaining the aesthetics of your house. The most common gravel used being Black Star Gravel (basalt gravel). The plastic gravel pavers function as a base stabilizer and help minimize water runoff. We recommend a 5″ road gravel base below ModuTile's plastic gravel paver when installing a gravel driveway. The base must be adequately compacted and flat. After that, it is a matter of placing a landscape cloth, the plastic paver, and filling it with the gravel of your choice.