ModuTile is happy to introduce our Made in the USA interlocking basement floor tiles, which are completely engineered as a DIY (Do-It-Yourself) product. You can install the flooring yourself or have a handyman help with the project. Installation does not require the use of expensive floor contractors. The basement floor tiles are designed to interlock using a loop-to-peg system and can be assembled without messy chemicals, glues, grouting or nails. They are designed to float directly on top of your basement concrete.
ModuTile has various style options that will fit your basement wall color scheme and decor. In the past, many homeowners attempted to install wood flooring or laminate wood floors only to have mold issues within a few months after installation. That problem is now solved with our multi-layered Wood Look interlocking basement floor tiles. They provide you with a high quality wood look without the issues of organic materials. For those of you that prefer a natural stone floor look, we have several options as well.
Below you will find all our basement flooring options that are suitable for basements. Please click your preferred style to see volume discounts. Don't pay more for less product!
DIY Interlocking Basement Flooring Options
You are sure to find the perfect look for your basement. All basement interlocking floor tiles feature a mold-resistant grid structure. We have many different looks available, such as slate, marble, sandstone, and wood. All options are durable and strong enough to support heavy furniture. Do-it-yourself has never been easier!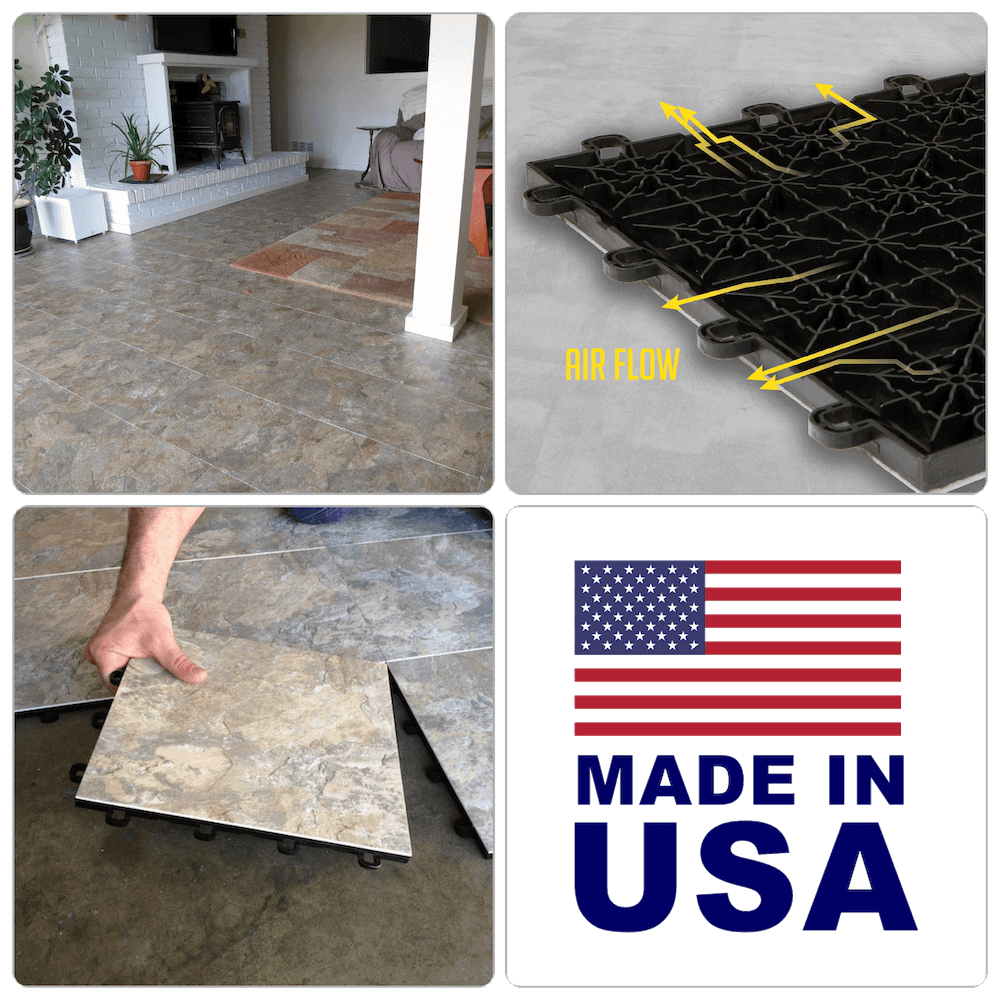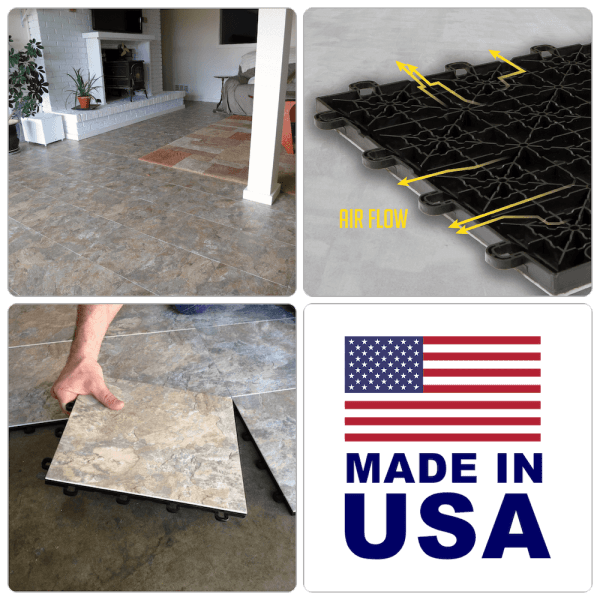 DESIGN – Features and Benefits of Vinyl Top Basement Floor Tiles
The grid structure creates a floating floor with an air gap between the underlying concrete and the top surface of the tile to allow moisture to escape from underneath the tiles.
Locking System easily connects the tiles together and keeps them together.
DIY Installation, no special tools or chemicals are required.
Low maintenance tiles are easy to clean and stain-resistant.
As an added benefit to the grid construction, the basement flooring will act as a thermal barrier. The basement tiles are 1/2 inch thick with a good air flow grid structure.
Many design options to fit your budget and design color needs.
Made in USA
Easy DIY Basement Floor Tile Installation
ModuTile's interlocking basement floor tiles are designed to interlock using a loop-to-peg system. They easily snap together without the use of tools. Our interlocking tiles do not need to be glued, nailed, grouted or painted. They are designed as a floating floor that sits directly on top of the concrete. The only preparation needed is sweeping to remove debris. The tiles can be installed on top of slightly uneven floor (1/4 inch for every 10 square ft). The basement tiles can be cut using a saw with a fine tooth blade. When cutting, we use an electric jigsaw as it is the easiest and most affordable way to cut the tiles.