ModuTile is happy to introduce our Made in the USA interlocking basement floor tiles, which are completely engineered as a DIY (Do-It-Yourself) product. You can install the flooring yourself or have a handyman help with the project. Installation does not require the use of expensive floor contractors. The basement floor tiles are designed to interlock using a loop-to-peg system and can be assembled without messy chemicals, glues, grouting or nails. They are designed to float directly on top of your basement concrete.
ModuTile has various style options that will fit your basement wall color scheme and decor. In the past, many homeowners attempted to install wood flooring or laminate wood floors only to have mold issues within a few months after installation. That problem is now solved with our multi-layered Wood Look interlocking basement floor tiles. They provide you with a high quality wood look without the issues of organic materials. For those of you that prefer a natural stone floor look, we have several options as well.
Below you will find all our basement flooring options that are suitable for basements. Please click your preferred style to see volume discounts. Don't pay more for less product!
DIY Interlocking Basement Flooring Options
You are sure to find the perfect look for your basement. All basement interlocking floor tiles feature a mold-resistant grid structure. We have many different looks available, such as slate, marble, sandstone, and wood. All options are durable and strong enough to support heavy furniture. Do-it-yourself has never been easier!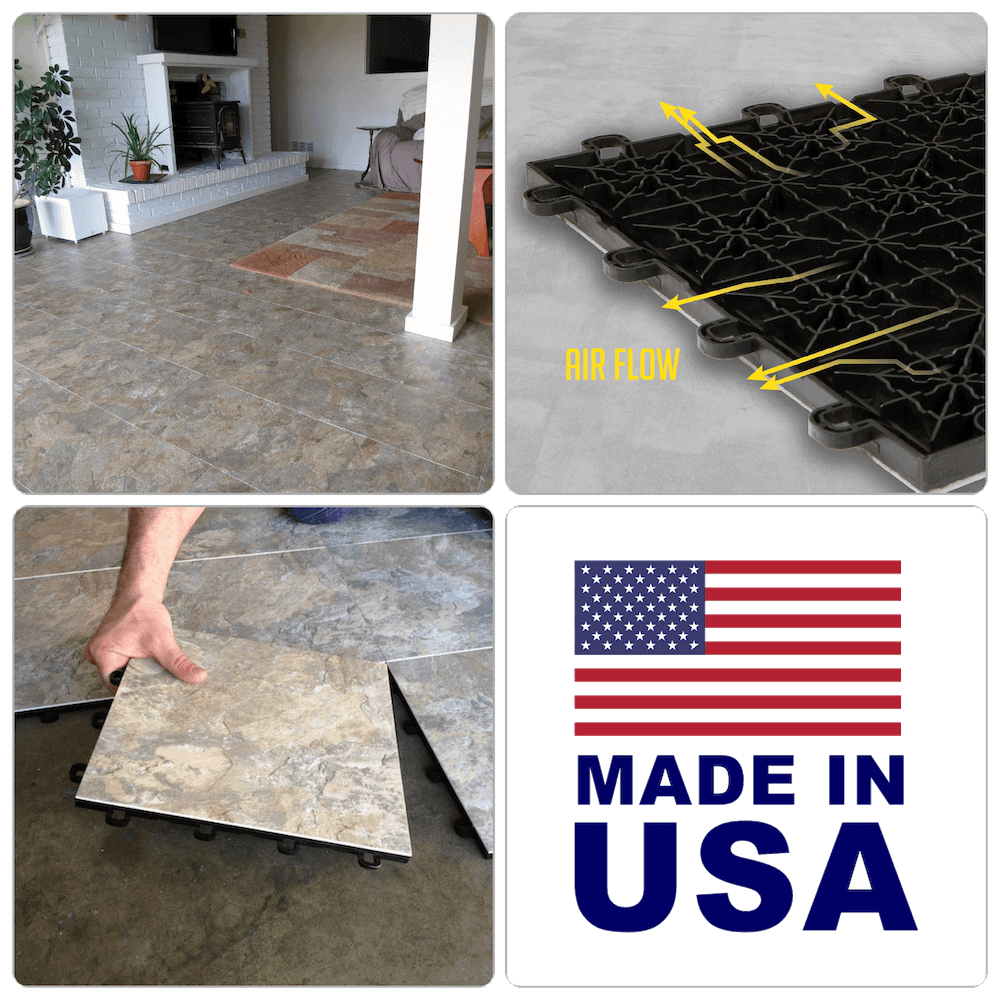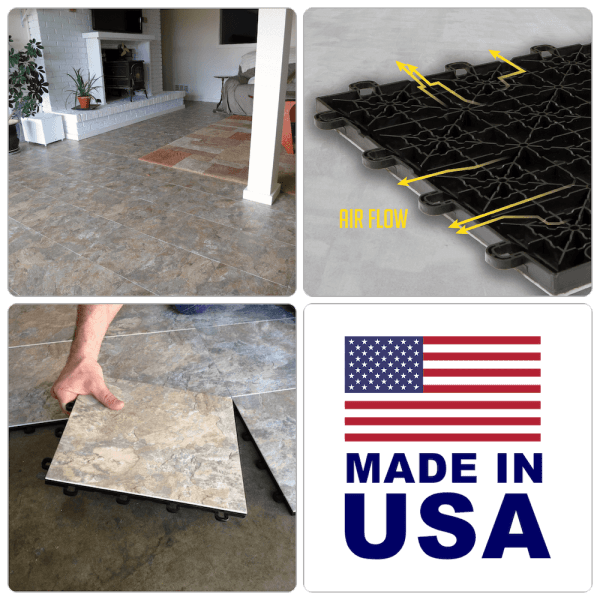 DESIGN – Features and Benefits of Vinyl Top Basement Floor Tiles
The grid structure creates a floating floor with an air gap between the underlying concrete and the top surface of the tile to allow moisture to escape from underneath the tiles.
Locking System easily connects the tiles together and keeps them together.
DIY Installation, no special tools or chemicals are required.
Low maintenance tiles are easy to clean and stain-resistant.
As an added benefit to the grid construction, the basement flooring will act as a thermal barrier. The basement tiles are 1/2 inch thick with a good air flow grid structure.
Many design options to fit your budget and design color needs.
Made in USA
Easy DIY Basement Floor Tile Installation
ModuTile's interlocking basement floor tiles are designed to interlock using a loop-to-peg system. They easily snap together without the use of tools. Our interlocking tiles do not need to be glued, nailed, grouted or painted. They are designed as a floating floor that sits directly on top of the concrete. The only preparation needed is sweeping to remove debris. The tiles can be installed on top of slightly uneven floor (1/4 inch for every 10 square ft). The basement tiles can be cut using a saw with a fine tooth blade. When cutting, we use an electric jigsaw as it is the easiest and most affordable way to cut the tiles.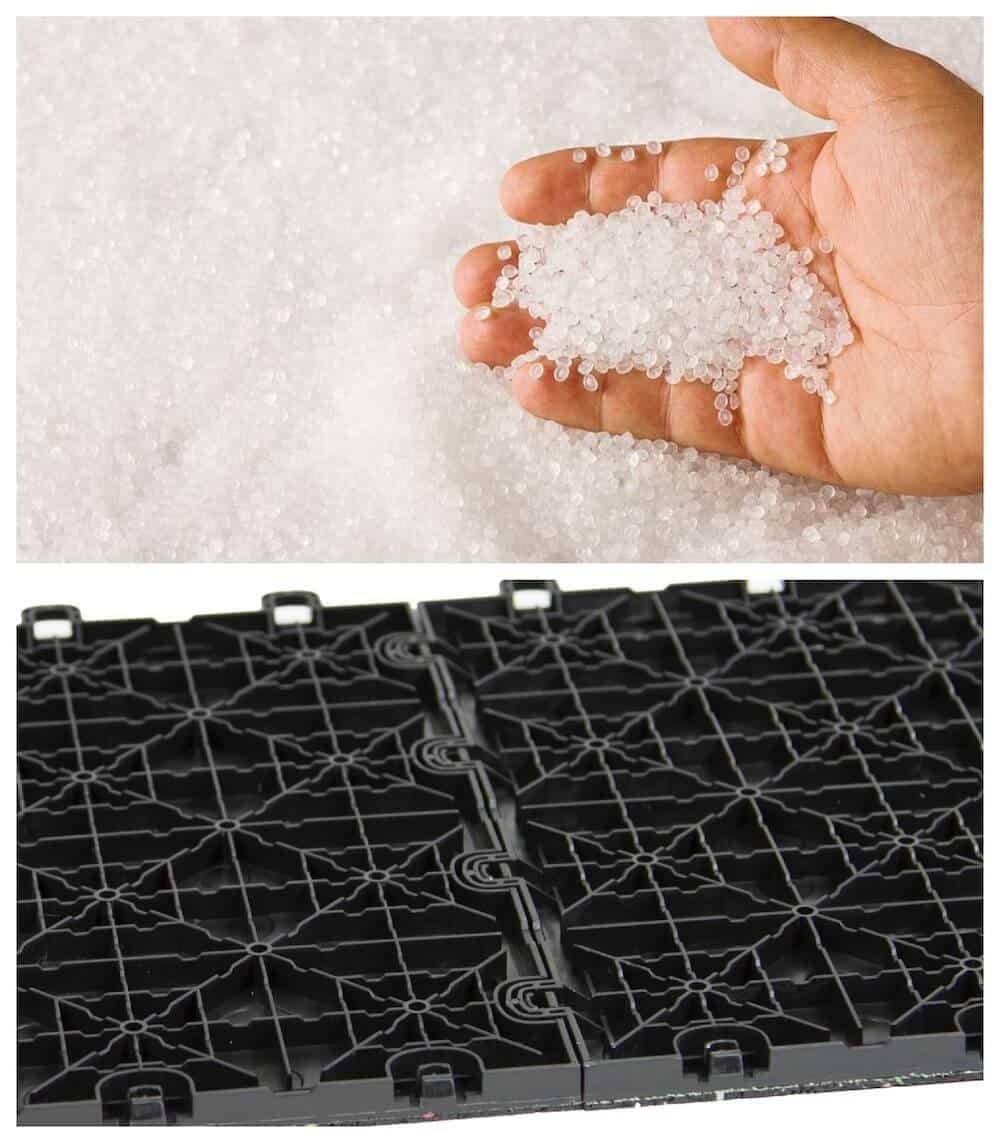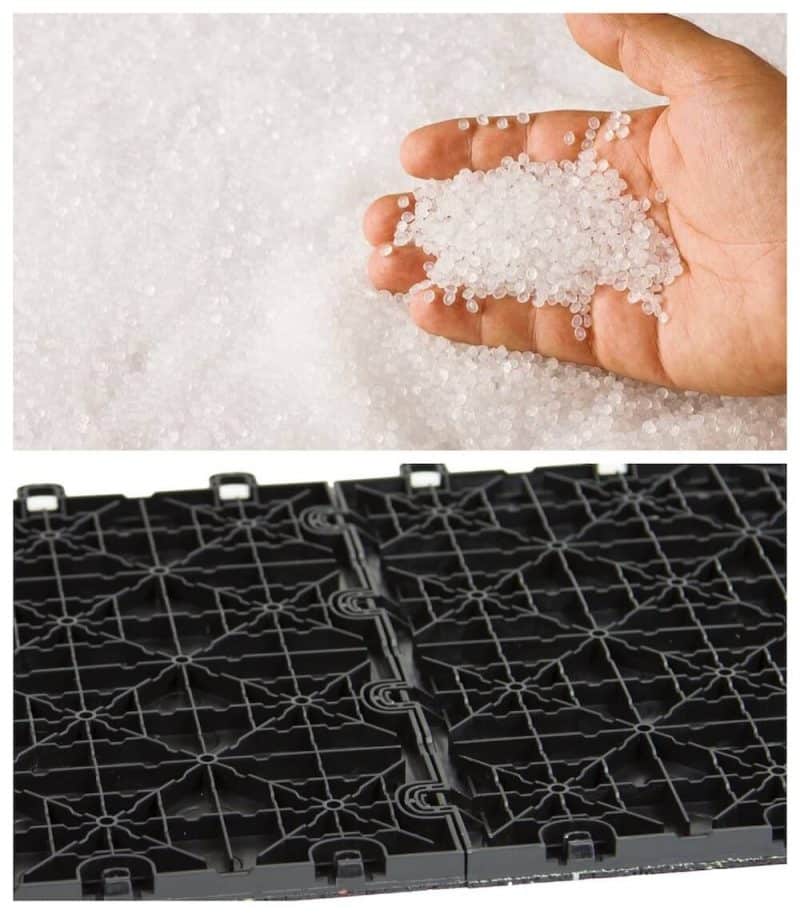 Interlocking Basement Floor Tile Mold Prevention Features
Our interlocking basement floor tiles do not attempt to block the water vapor from rising. Instead, they were designed so the vapor escapes into the room to prevent moisture from building underneath the basement tiles. In other words, ModuTile's basement flooring is specifically designed to breathe into the room. This design follows the US Department of Energy Best Practices. To learn more, please visit our "Basement Floor Tile Questions" page.
Basement Floor Tile Material:
The bottom section of the interlocking basement tile is made out of a non-porous material (high-impact polypropylene plastic) that prevents water absorption. It is a high strength material that will support heavy weights without breaking. In fact, this is the same material used for the interlocking garage floor tiles which are designed to hold large vehicles such as SUVs and large trucks. ModuTile's basement floor tiles use 100% waterproof, non-absorbent and inorganic materials as part of its construction.
Grid Structure Basement Tile Design:
The underside of the interlocking basement tiles are constructed with a grid to allow airflow. In addition, once installed, the basement floor will allow air to flow upward through the gaps between tiles. Again, this design follows the US Department of Energy best practices. The improper use of vapor barriers can compound any mold problems that your basement may already have.
Interlocking Basement Floor Tile Cost
One of the first questions people ask us is why our basement flooring is so much cheaper than others in the market. The answer is simple. We are the USA manufacturer for all our tiles and sell directly to you via the web or phone. This product is designed to be installed by the homeowner or a handyman that has no technical expertise. When you buy from ModuTile.com, you are buying directly from the manufacturer. We do not use middle men or third-party sellers as that would only raise the price.
ModuTile believes in providing the most affordable prices at all times and not playing around with discounts during certain times of the year. We have ongoing discounts that are directly associated with our current material costs. In addition, when possible, we pass on the savings we get from shipping. You may notice that many of our tiles have volume discounts. Those discounts are directly associated with our FedEx and LTL shipping weight discounts.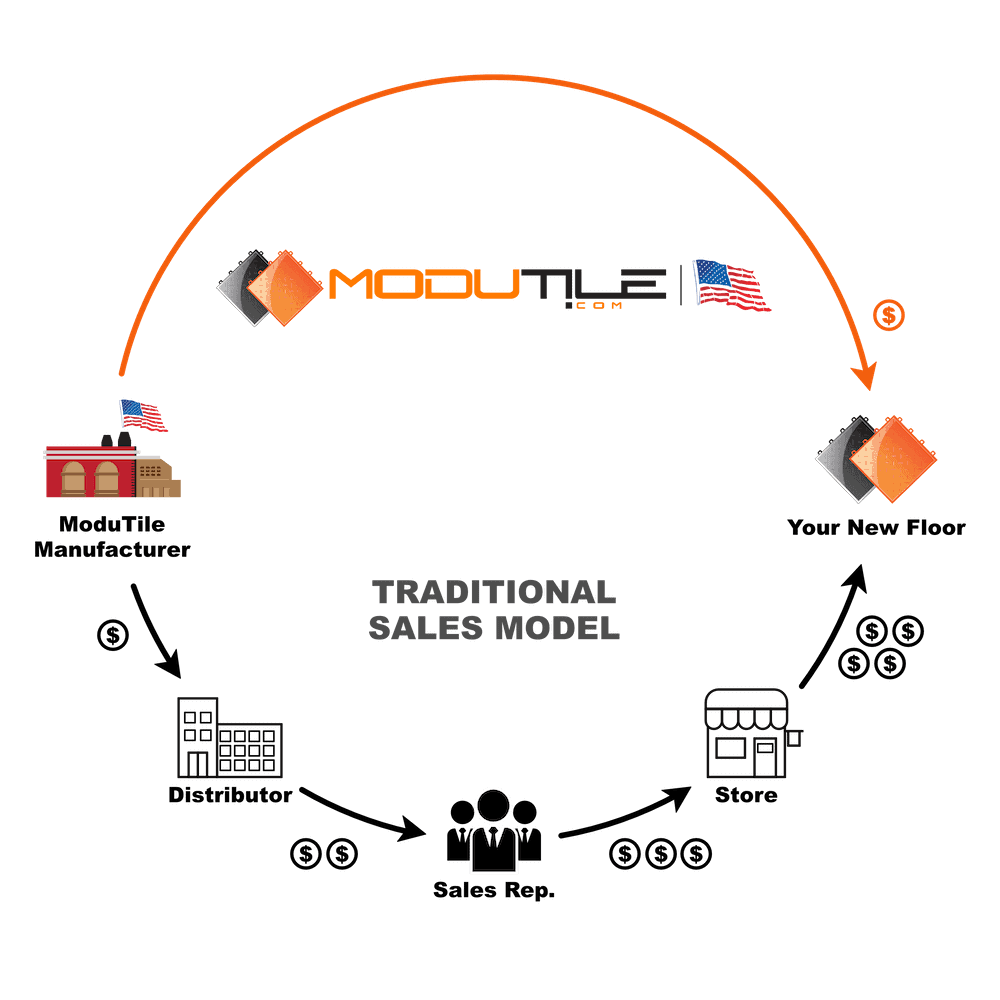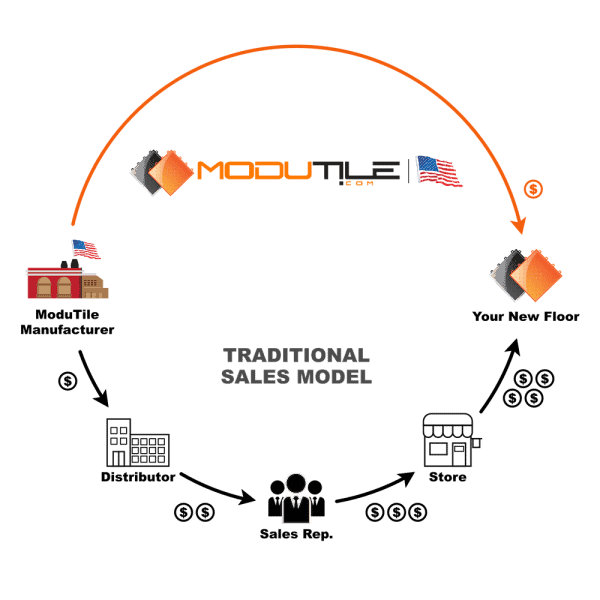 Buy Basement Flooring
ModuTile Basement Floor Tiles are Proudly Made in the USA

Visit ModuTile's modular product section to choose from various colors and designs.
Buy Basement Flooring
ModuTile Basement Floor Tile Reviews
ModuTile products have been proudly made in USA since 2011. We love hearing back from our valued clients and sharing their feedback with prospective customers. Here are some authentic reviews from happy customers. They continuously amaze us with their creativity and their practical uses of our tiles to solve their flooring issues.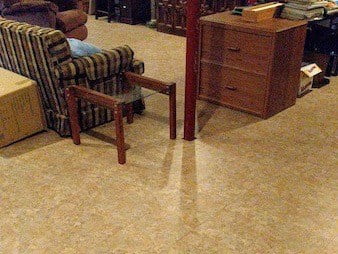 Just thought you'd like to see the results of the modutile installation my wife and I finished this week. The hardest part was carrying the tiles from our garage to the basement….a case of tiles is fairly heavy!

Thanks for a great product!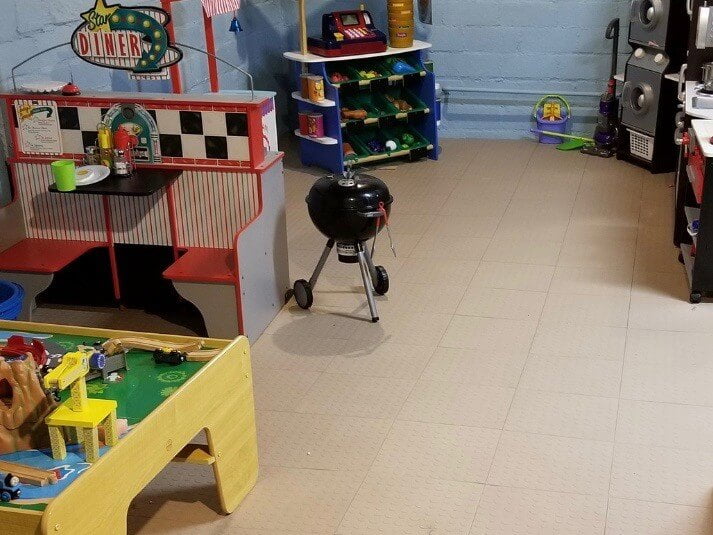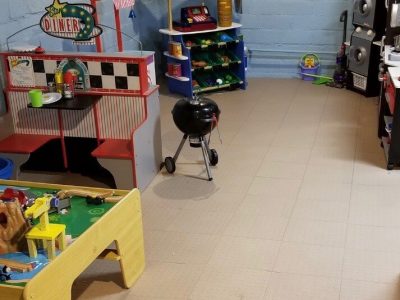 Just wanted to let your company know how happy we are with our tiles! We searched EVERYWHERE for something like these, but the price was either astronomical or the reviews were subpar. We finally stumbled on ModuTile and we are so glad we did! You can see how ugly our basement was before, definitely not a place we would want to use for a playroom. But after some paint and the new floor the whole family just loves it. While you can still feel the varying levels of the underfloor, it really did a great job masking it more than I expected; and no tiles have popped apart which was a big concern. We have already recommended ModuTile to friends and have received so many compliments. From a family of young kids, thank you for helping us reclaim our living room and giving toys a place to go!!!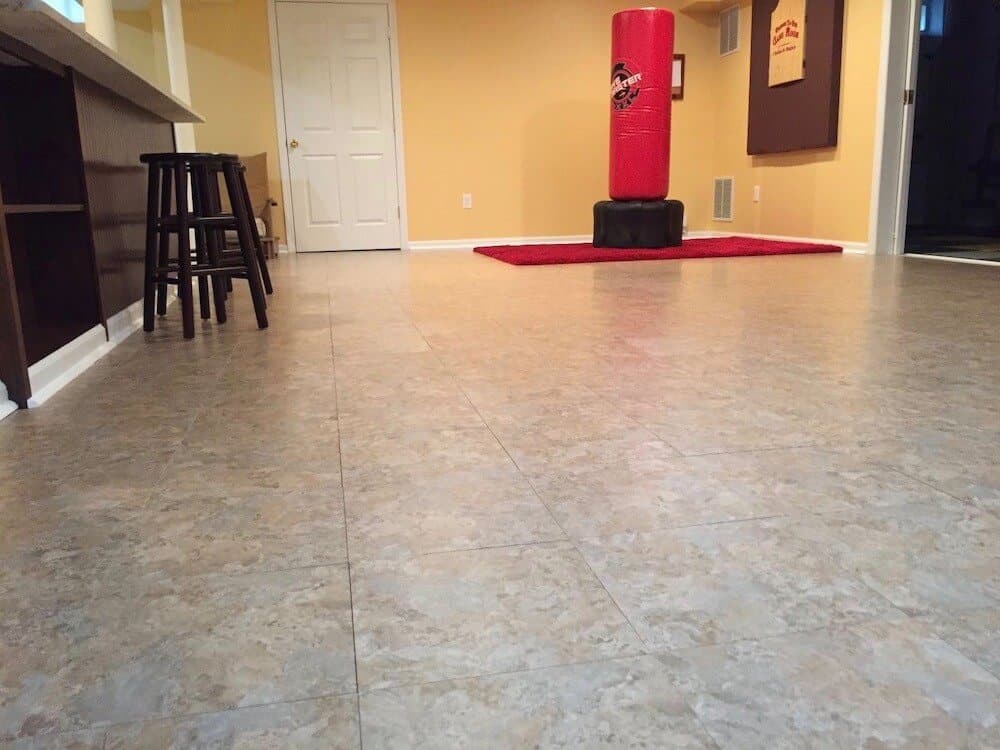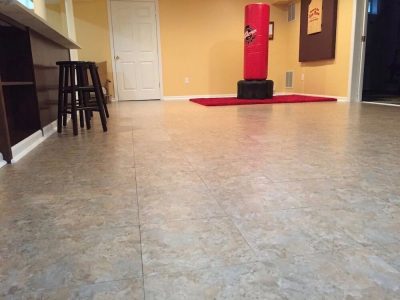 Wish my husband & I had discovered these years ago when we originally finished the basement, would never have considered the laminate we went with & had to rip out and waste.

Thanks,