Basketball Courts
Build your own backyard basketball court floor. ModuTile offers a variety of ready sports floor court kits. We also provide custom basketball court sizes based on your backyard dimensions. ModuTile sport tiles can lay over any hard surface, including our basketball gravel paver base.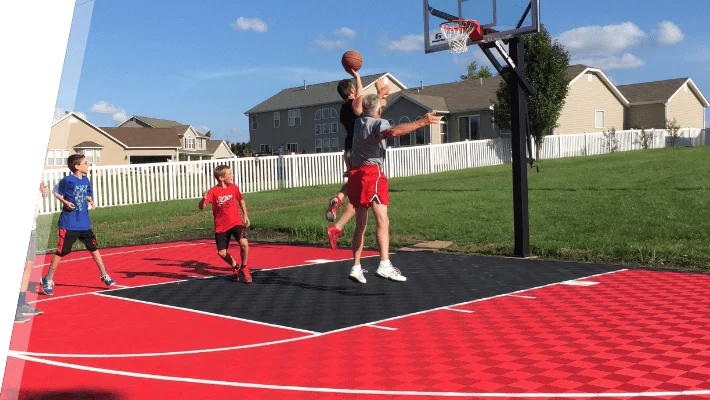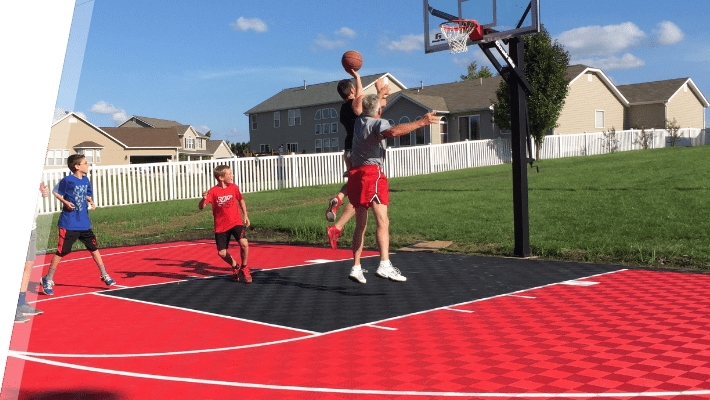 Here at ModuTile, our mission is to help our customers achieve their vision for flooring wants and needs. Our outdoor basketball courts are constructed from high-impact polypropylene based perforated tiles, proudly manufactured in the USA. Each of these one square foot tiles have a unique interlocking system, which makes the backyard basketball court flooring a simple DIY installation project.
Below are four half-court outdoor basketball court floor kits offered in the most commonly requested sizes, ranging from 20×24–ft. to 46×30–ft. All four packages include our perforated interlocking sport tiles with white custom painted high-school standard court lines and ramp edges for the surrounding perimeter. If you're looking to customize your court dimensions, lines, tile colors, or boundaries, we are happy to speak with you directly to better understand what you're looking for and to help accomplish your exact vision. To request a customized outdoor basketball court, please call us toll-free at 1-877-663-8845 to speak with a customer service representative.
Basketball Floor Quick Start Guide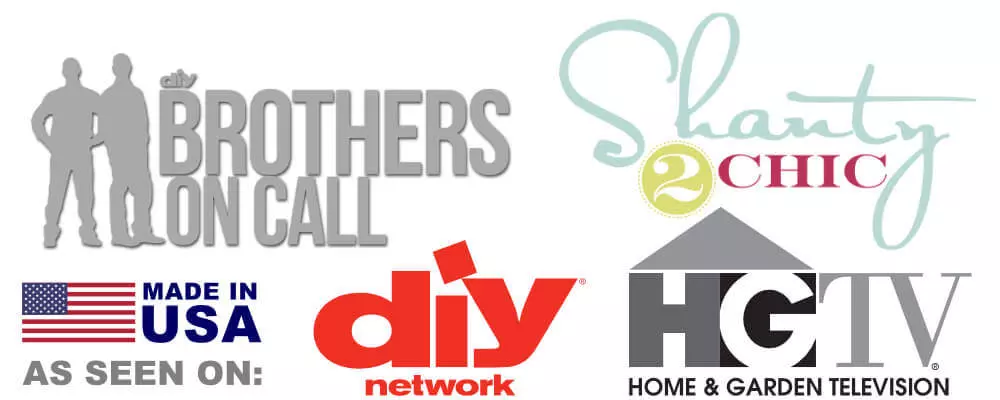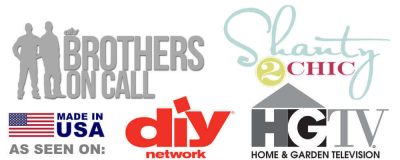 Outdoor Basketball Court Floor
ModuTile Outdoor Basketball Court Flooring comes in popular colors and dimensions such as full courts and half courts. We have listed 5 kits below that will accommodate the most popular sizes. You do NOT need to buy a kit because we can put together a custom package to perfectly fit your backyard, in any size you need. You pick the colors and the lines and any other designs you want, and we will make it for you. DIY installation is easy, and you will be playing on your own basketball court before you know it.
Indoor/Outdoor Basketball Floor Graphics
Design possibilities are endless since we can add custom graphics to the interlocking sports tiles.
Our customers have requested their high school or college mascots, personal monograms, inspirational quotes, and even their last names.
We can add a basketball player silhouette, customized lines, and artwork to the basketball floor.
Tough material + Smart design = Top quality sport flooring solution for your basketball backyard court.
The grid structure creates a floating floor with an air gap between the underlying concrete and the top surface of the tile to allow water flow.
Locking System easily connects the tiles together and keeps them together.
DIY Installation, no special tools are required.
Low maintenance tiles are easy to clean and stain-resistant.
Your basketball backyard court will have great drainage.
Made from High-Impact Polypropylene material strong enough to support vehicles weighing up to 40,000 pounds.
Made in USA!
Backyard Basketball Court Tile Advantage
Water Drains Through the Mesh Design.
Color Combinations to Represent Your Team.
Proudly Made in the USA.
ModuTile interlocking basketball court tiles are perforated tiles that are durable enough to support the demands of the most serious athletes and look fantastic in the process.
They are perfect for outdoor use because they have UV-protection for direct sun exposure and can withstand wet weather conditions.
Basketball court tiles are easy to install, easy to clean and slip-resistant.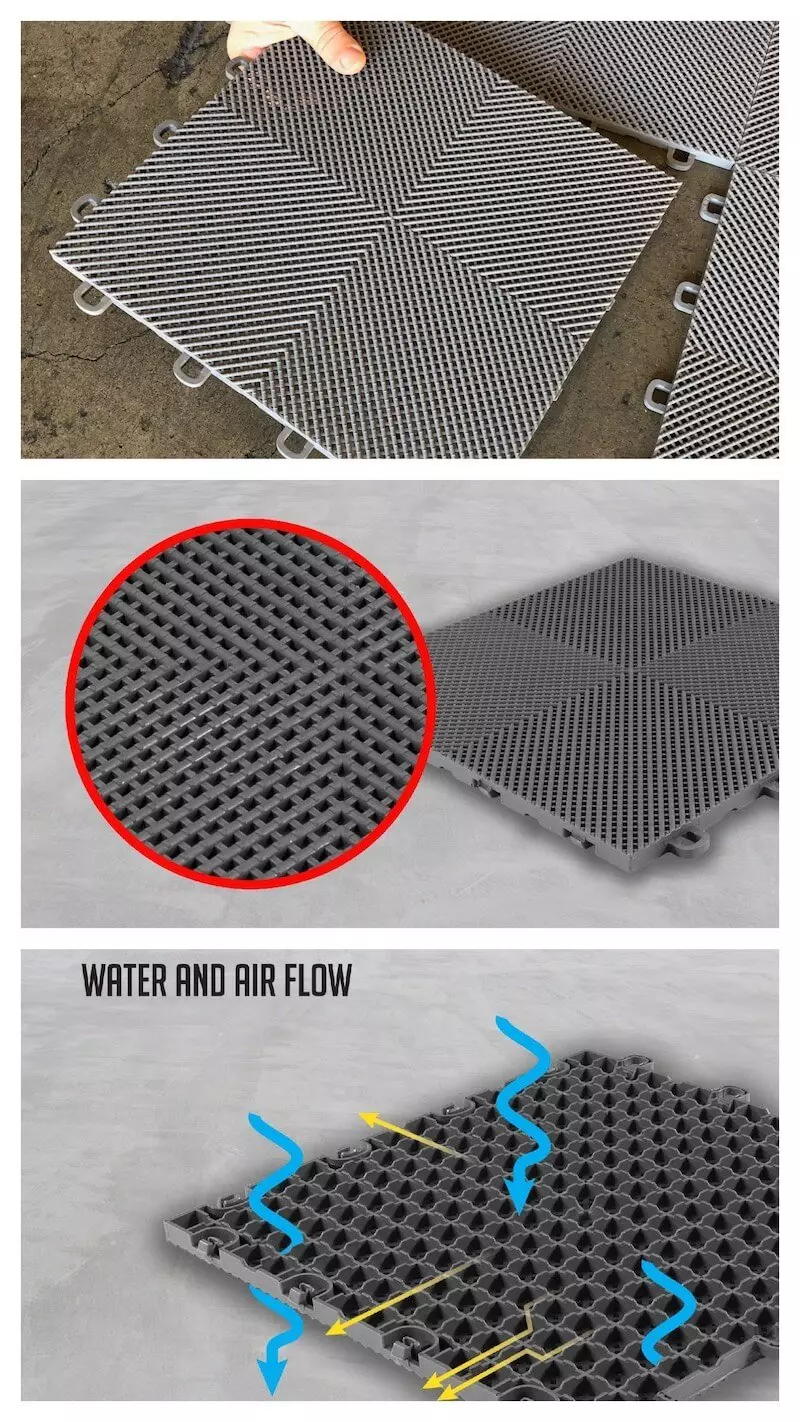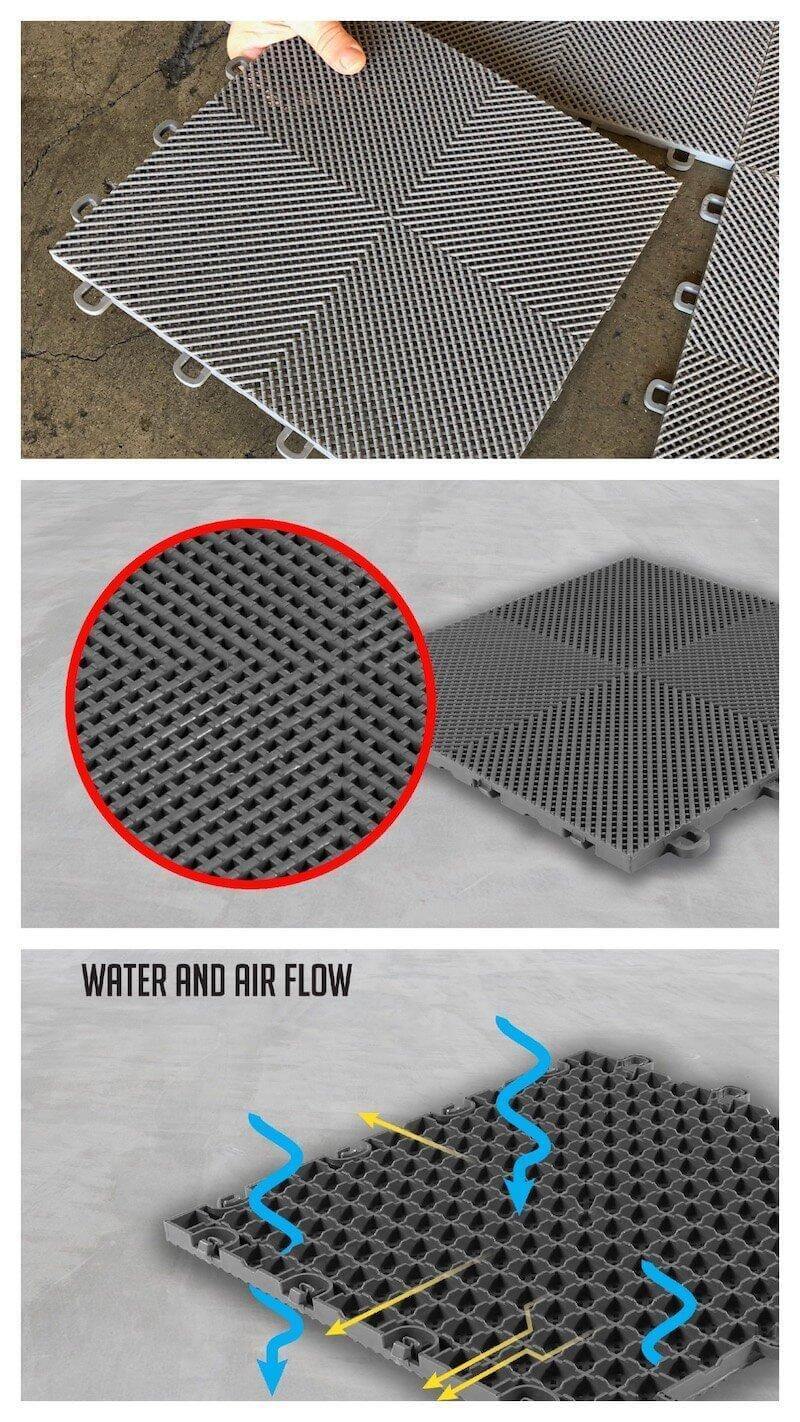 Interlocking Gravel Paver for Basketball Court
Alternative Option for Concrete Basketball Court Base.
Durable and less expensive court base solution.
Permeable pavers help prevent water puddles.
An earth-friendly solution as it will lower water runoff and reduce the use of concrete.
Cement production is a major contributor to CO2 emission in the environment.
Ideal for backyard basketball courts
Made in the USA.
Basketball Court Edging for a Finished Look
All basketball flooring kits come with border edging that securely interlocks with the court tiles. The edge pieces provide a smooth transition from the underlying floor of your backyard to the basketball court.
Custom sized courts may or may not need the border edging.
The interlocking tiles can be cut to line up next to a wall; or the edging might not be necessary if the court will border along grass or gravel in your backyard.
Edging is optional for custom courts.
Multiple Colors Available.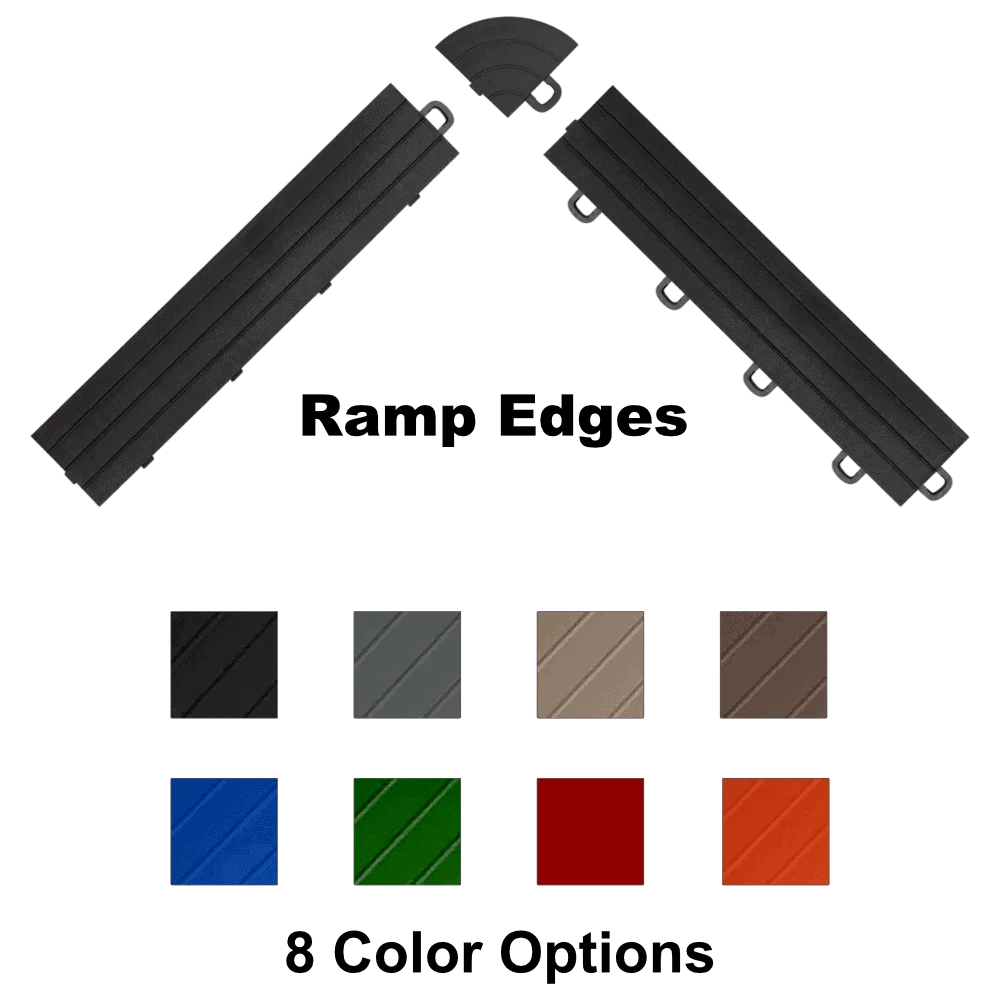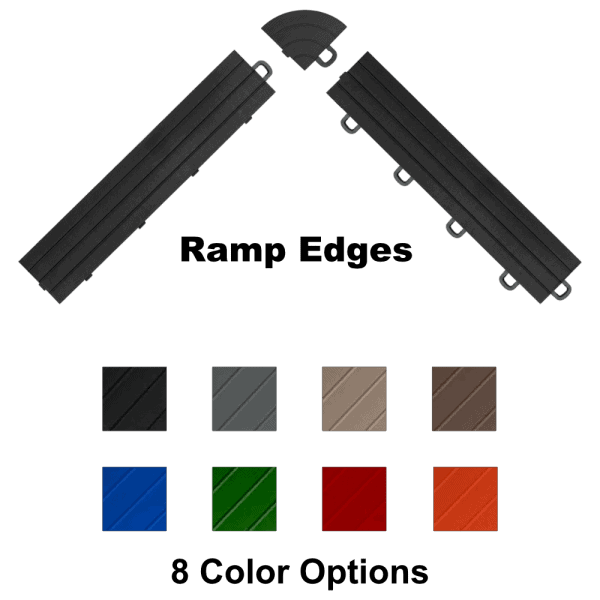 ModuTile Basketball Court Flooring Reviews
ModuTile products have been proudly made in USA since 2011. We love hearing back from our valued clients and sharing their feedback with prospective customers. Here are some authentic reviews from happy customers. They continuously amaze us with their creativity and their practical uses of our tiles to solve their flooring issues.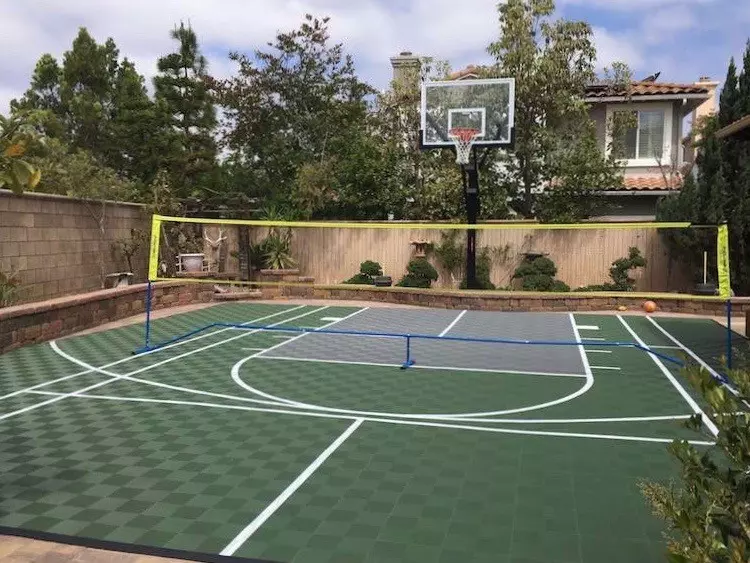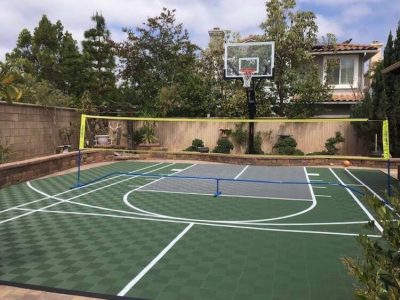 Attached is some pics of my court. Overall, I'm very happy of how it turns out.Thank you,P.s. It would be great if you can offer team logos and more color options.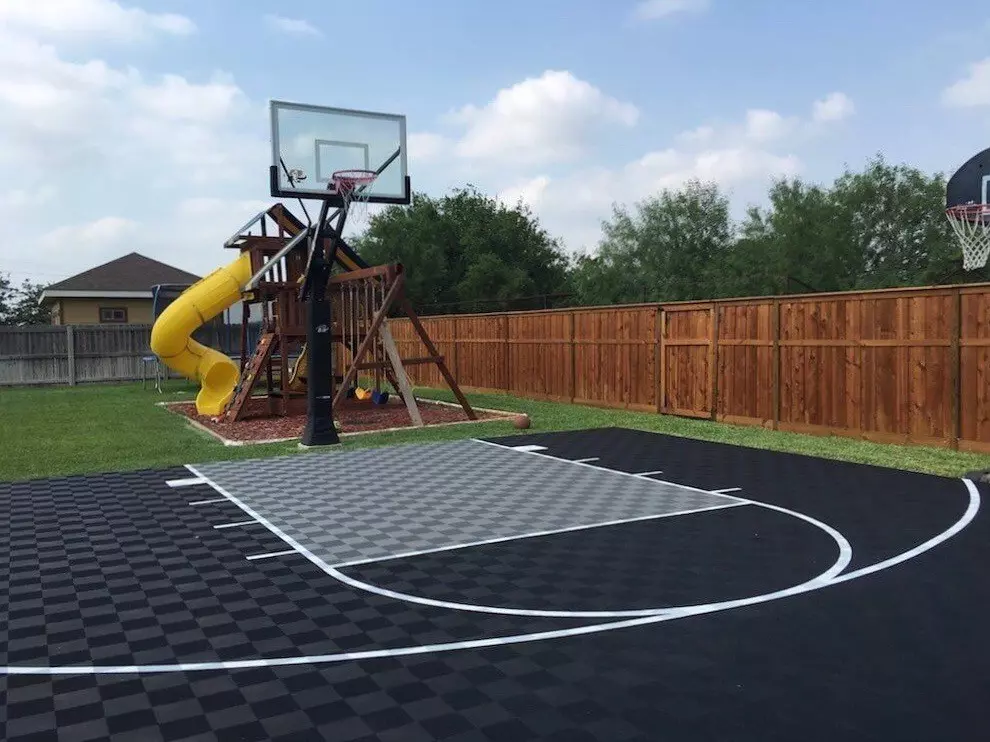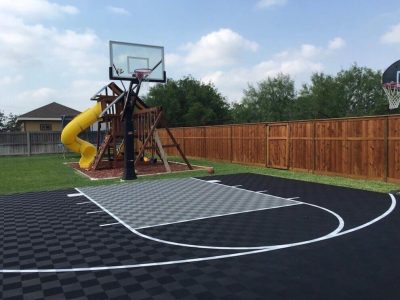 Well the tiles arrived earlier than expected around 1030 am. Unfortunately, I didn't get started right away but I did start around 1130. It was extremely easy but the South Texas heat and the fact that I have zero shade extended the install time. I've included a few pictures and a video.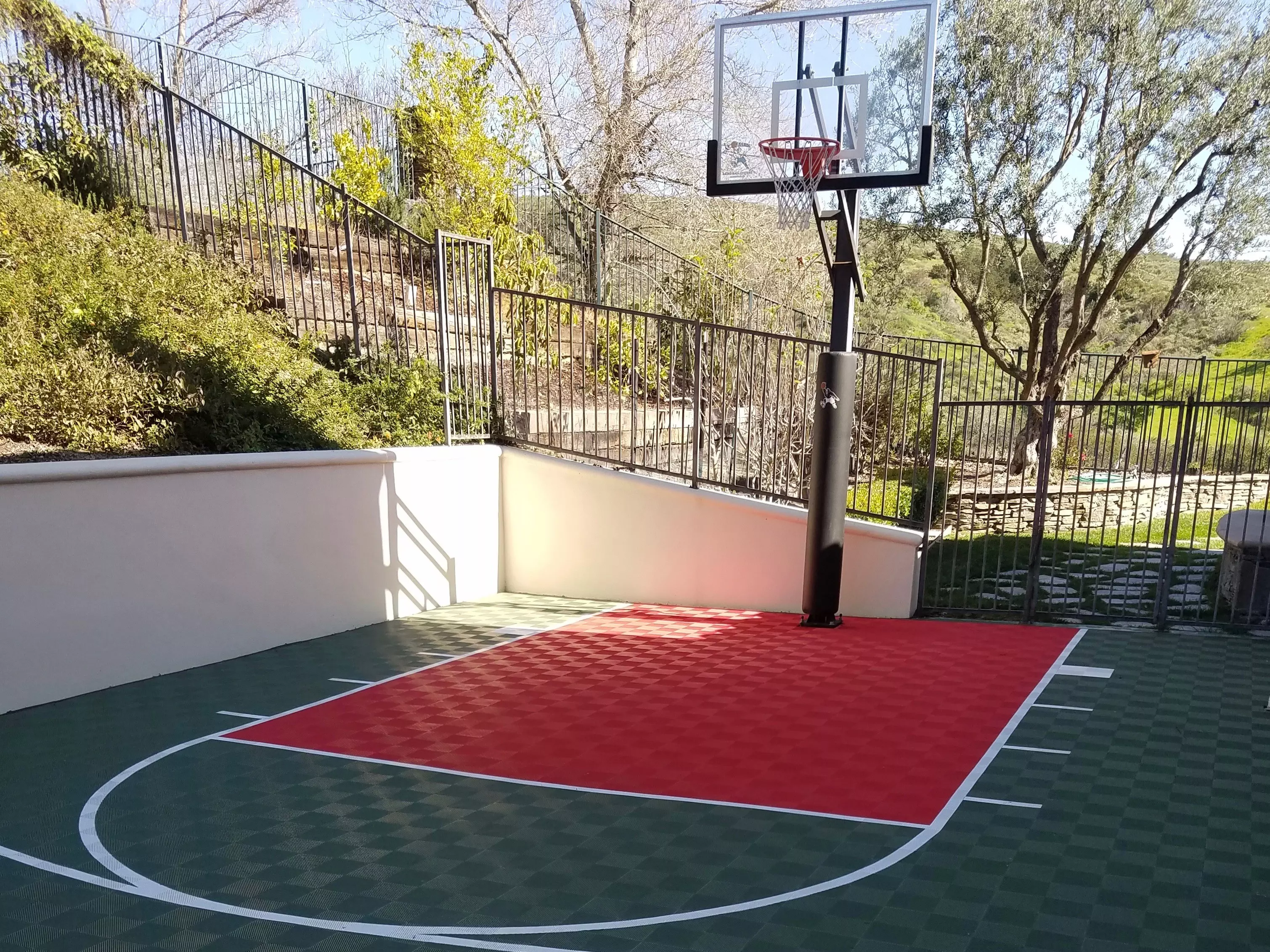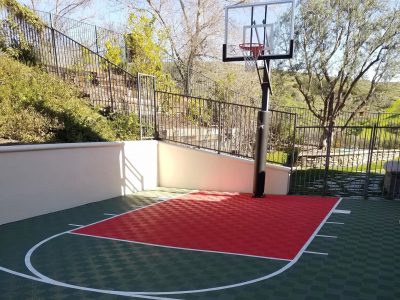 We love the way it turned out!The install was easy, especially the way the boxes are so clearly marked.Thanks for all your help!