Gravel Pavers for Outdoor Basketball Court Base – 24″x24″
$2.19 – $3.50 sq. ft.
From Recycled high-impact Plastic
87% Porosity Rating
For use with Grass or Gravel
Pressure Loop-to-peg Interlocking System
Made in USA
Description
Gravel pavers are a great alternative to concrete when you are building an outdoor basketball court.  They create a flat, sturdy surface to be used in combination with our interlocking basketball court tiles.  They are cost-efficient, durable and ensure that your backyard basketball court has the strong foundation it needs. A paver outdoor basketball court base is also much easier to install when compared to concrete.
ModuTile's interlocking permeable pavers are made from recycled plastic (HDPE) using an injection molding process. The pavers are designed for quick installation and perform well as gravel pavers for supporting an outdoor basketball court, driveway, parking area, or pathway.
Permeable Plastic Pavers – Specifications
Dimensions:  24 x 24 x 1.2 inch
Coverage: 4 sq. ft. per paver
Weight: 3.2 lbs. per paver
Porosity: 87%
Compression Strength: 60 tons per square foot
Temperature Range: -58°F to 194°F
Material: Recycled High-Density Plastic
Interlocking System: Pressure Loop-to-peg System
Colors:  Black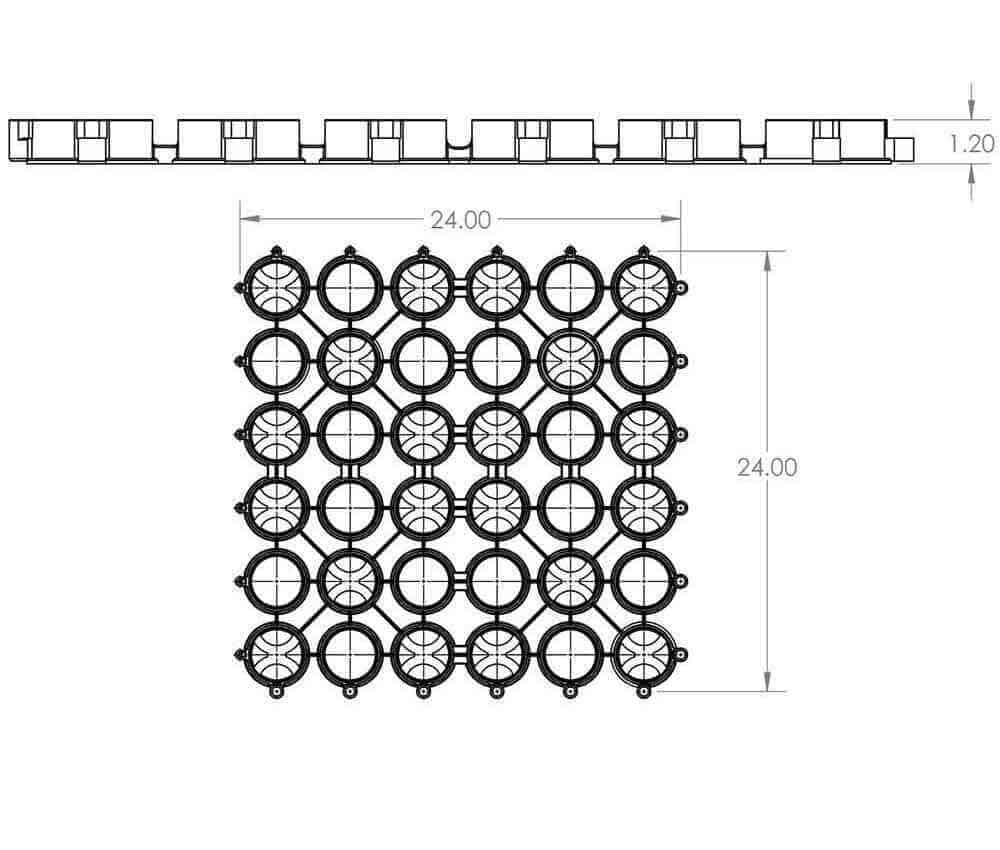 As seen in the pictures, each paver features a modular "cylinder" cell pattern that results in a continuous pattern throughout the install. The straight bridge connections in conjunction with the physical composition of the pavers allow the paver tiles to effectively cover slightly uneven terrain and create a flatter surface. The "H" anchors are built-in to keep the paver in place without the need of additional anchors.
Benefits of a Porous Plastic Paver Base
There are three primary reasons why you would use a porous plastic paver.
Water Drainage consideration
Greener option to concrete or asphalt
Sturdier and less surface erosion than just compacted gravel
First, these pavers allow water to flow through them. Our ModuTile permeable plastic pavers have a rating of 87% porosity. As a result, using the pavers improves water drainage and helps prevent water runoff.
The second reason is that the permeable pavers consist of a post-consumer recycled material that is used as a substitute for concrete. Cement production is a major contributor to CO2 emission.  Hence, ModuTile's recycled high-density plastic paver is a greener option for the environment.
Additionally, the permeable pavers provide extra support for compacted gravel.  The pavers help prevent erosion and make the base much stronger to support an outdoor basketball court.
Outdoor Basketball Court Base Pavers
When creating an outdoor basketball court, using pavers is a smart way to be sure your court floor is properly supported for maximum enjoyment over time.  Pavers will allow you to start with a nice flat, strong foundation that will lessen erosion.  When they are installed, you can be assured that the base below your basketball court will not develop ruts or wash away.
The installation of the pavers is simple because of their structure and locking mechanism.  The pavers are an affordable option when compared to the financial and environmental cost of a concrete slab.  Once you install the permeable pavers, the ground is strengthened and stabilized, an