Permeable Plastic Pavers – 24″x24″
$2.59 – $3.89 sq. ft.
From Recycled high-impact Plastic
87% Porosity Rating
For use with Grass or Gravel
Pressure Loop-to-peg Interlocking System
Made in USA
Description
ModuTile's permeable plastic pavers are made from recycled plastic using an injection molding process. The pavers are designed for quick installation (exceeding 1000 square feet per man hour). These permeable pavers perform well as a grass paver or a gravel paver for driveways, parking areas or pathways.
Permeable Plastic Pavers – Specifications
Dimensions:  24 x 24 x 1.2 inch
Coverage: 4 sq. ft. per paver
Weight: 3.2 lbs. per paver
Porosity: 87%
Compression Strength: 60 tons per square foot
Load Capacity: 60 tons per axle
Temperature Range: -58°F to 194°F
Material: Recycled High-Density Plastic
Interlocking System: Pressure Loop-to-peg System
Colors:  Black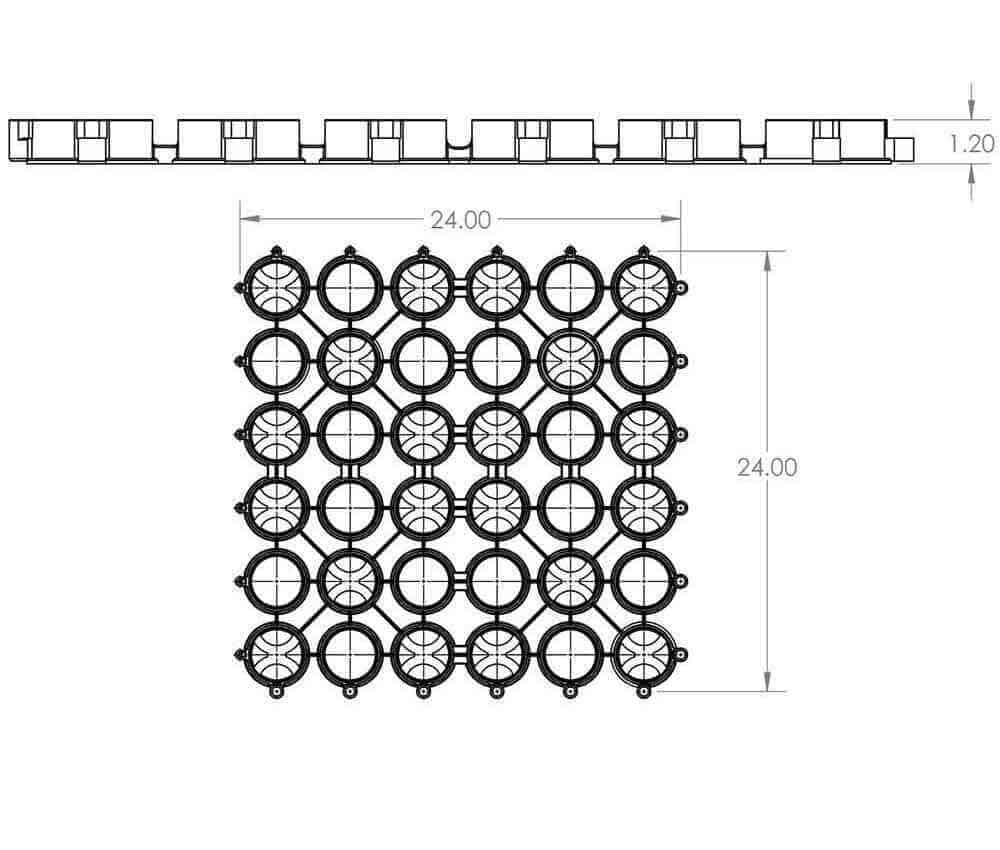 As seen in the pictures, each paver features a modular "cylinder" pattern that results in a continuous pattern throughout the install. The bridge connections in conjunction with the physical composition of the pavers allow the paver tiles to effectively cover slightly uneven terrain. The "H" anchors are built-in to keep the grass paver in place without the need of additional anchors.
Benefits of Porous Plastic Pavers
There are two primary reasons why you would use a porous plastic paver.
Water Drainage consideration
Greener option to concrete or asphalt
First, these pavers allow water to flow through them. Our ModuTile permeable plastic pavers have a rating of 90% porosity. As a result, using the pavers improves water drainage and helps prevent water runoff.
The second reason is that the permeable pavers consist of a post-consumer recycled material that is used as a substitute for concrete. Cement production is a major contributor to CO2 emission in the environment.  Hence, ModuTile's recycled high-density plastic paver is a greener option for the environment.
Visit ModuTile's interlocking permeable pavers page to learn more. If you have any questions please contact use via phone or fill out our online contact us form.
There are two ways to use Permeable Plastic Pavers:
Grass Pavers
Gravel Pavers
Grass Pavers
What are grass pavers? Grass pavers are permeable grid structures designed to provide structural support and create a permeable ground surface that allows grass to grow. There are various types of grass pavers on the market including plastic grid pavers and concrete grass pavers.
What are the benefits of using grass pavers?
Grass pavers create structural support to prevent erosion, dust abatement, and mud holes when you have pedestrian or vehicle traffic. An added benefit to using ModuTile plastic pavers as grass pavers is that it makes the ground surface permeable or porous. The water flows through the grass pavers helping manage water runoff from paved surfaces. In addition, plastic pavers provide a permeable pavement solution. Water will seep back to the underground soil rather than going into public waterways.
Grass Paver Driveways
ModuTile's grass pavers are a great affordable driveway option. The locking mechanism and structure allows for an easy installation process. These high-impact permeable plastic pavers are also durable. They will support heavy vehicles and heavy machinery while maintaining an organic, earth-friendly appearance. When these pavers are used in residential driveways, they create a surface that is more durable for vehicles to park or drive through compared to regular grass ground. Additionally, they will help prevent erosion and mud holes from forming.
Grass Paver Parking
Grass pavers create a functional, durable and enjoyable parking area. They create an ideal parking space for occasional, slow-moving traffic where an aesthetic appearance is desired. As a result, plastic pavers are an excellent solution for overflow grass parking.
Grass Paver Fire Lanes
Grass pavers can create drivable grass fire lanes that provide access to commercial buildings for fire engines. Furthermore, the grass fire lane provides wonderful curb appeal for commercial or high occupancy residential buildings. When properly installed, the grass covers the plastic paver hiding it from view.
Gravel Pavers
When creating a driveway or additional parking area, using gravel is a great option for appearance and functionality.  The gravel option allows superior drainage when compared to grass pavers because the water will seep through easier.
Gravel Driveway Pavers
With gravel driveways, it is common to have issues such as ruts, and rock erosion over time. Specifically, heavy vehicle traffic will damage traditional gravel driveways.  Our pervious plastic pavers create a strong rigid structure once installed. This structure slows down the erosion process caused by heavy vehicles and acts as a driveway gravel stabilizer.  When installed properly, cars, SUVs, trucks, and RVs can park and drive without ill effects. ModuTile's 1-1/4-inch permeable plastic pavers are designed for both residential and retail commercial use.
Gravel Parking Pavers
In addition, these plastic pavers allow you to create parking areas with great drainage capacity.  Due to the water seepage, the parking areas function as a small water retention ponds. They are an affordable and functional parking solution.
Additional information
| | |
| --- | --- |
| Weight | N/A |
| Dimensions | N/A |
| Color | Black |
| Size | 24 x 24 x 1.2 – inch per tile |
| Coverage | 4 sq. ft. per tile |
| Package Qty | Single Piece, 4-Pack, 10-Pack, Pallet |
| Material | Recycled High-Density Polyethylene |
| Special Features | Cylinder Strength Structure, Pressure Locking System, H – Anchor, Modular Locking System, High Load Capacity, Vehicular-Traffic |
| Product Category | Deck & Patio |
| Brand | ModuTile |