At ModuTile, we understand that a gym floor needs to be tough enough to withstand demanding environments such as commercial gyms or large-scale weight rooms, but easy to install for any home gym.  That is why we offer various durable interlocking rubber gym floor tiles designed as a DIY (do-it-yourself) floor.  We offer two types of home gym flooring as described below.
Rubber Gym Flooring – These are the same rubber gym floors that are used in professional gyms all over the USA. We offer interlocking versions for homeowners to install without the need of adhesives or expensive installation procedures.
Rigid Home Gym Flooring – (12" x 12" x 1/2″)  – If you would like to install gym flooring over carpet, a rigid gym floor option may be suitable. High-Impact Polypropylene interlocking floor tiles can be used for creating a home gym mat that is strong and rigid for use under gym equipment.
Please refer to the products listed below to learn more about each one.  We offer pre-configured gym floor mats made from the above-mentioned materials that may provide additional savings when purchased as a kit.
Garage Floor Quick Start Guide
Plastic Garage Floor Tiles
Coin Top, Diamond Top and Perforated polypropylene plastic garage floor tiles are our best-selling floor tiles. Not all plastic tiles are the same. ModuTile garage floor tiles are made from a high-impact polypropylene plastic material that is lightweight and strong enough to support heavy rollover loads. They come in a variety of colors and can interlock together to create a unique, custom sized floating floor.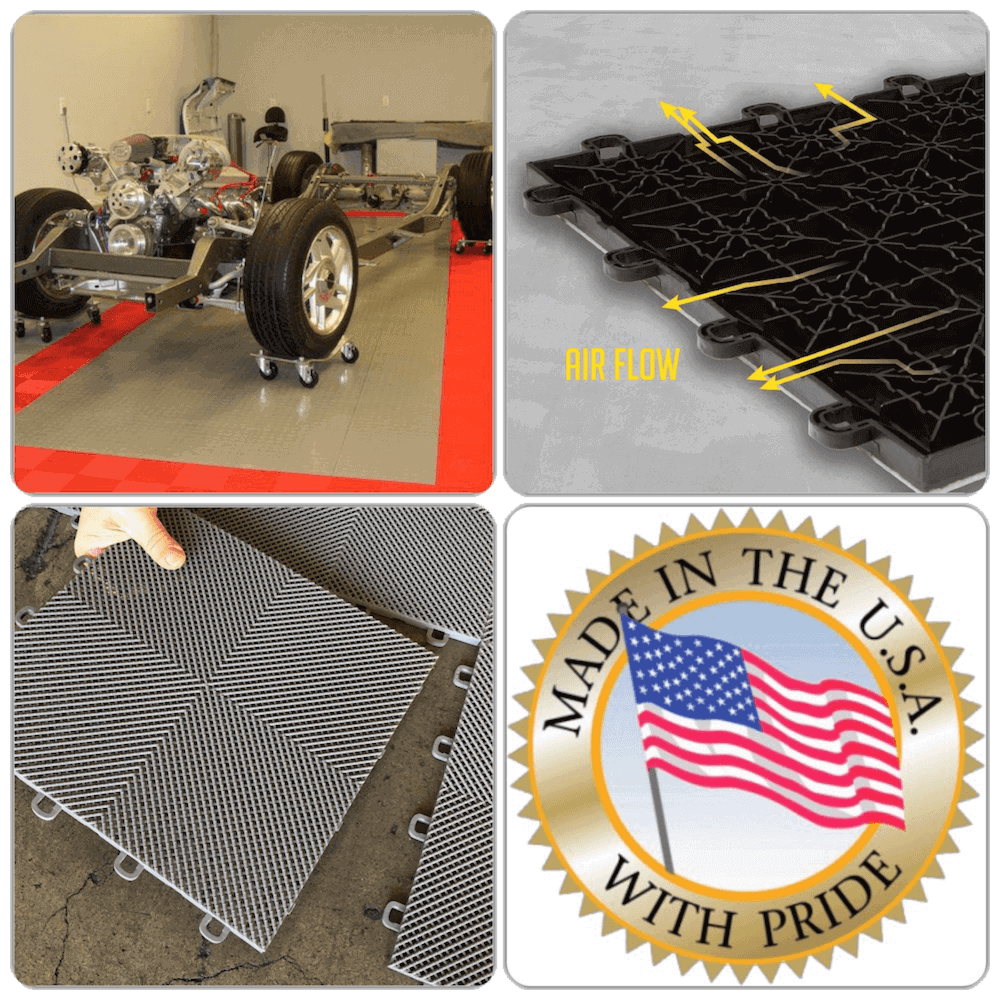 Tough material + Smart design = Heavy load capacity and air circulation for your Garage Floor
Made from High-Impact Polypropylene material strong enough to support vehicles weighing up to 40,000 pounds
The grid structure creates a floating floor with an air gap between the underlying concrete and the top surface of the tile to allow moisture to escape from underneath the tiles
Locking System easily connects the tiles together and keeps them together
DIY Installation, no special tools or chemicals are required
Low maintenance tiles are easy to clean and stain-resistant
Made in USA
Modular Interlocking Garage Floor System
The tiles interlock with a loop to peg system; two sides have loops and two sides have pegs.
Coin-top, Diamond-top, Perforated tiles, and Ramp Edging are all compatible with each other
Looping mechanism allows room for expansion once they are interlocked together.
Modular interlocking system is specifically designed not to buckle.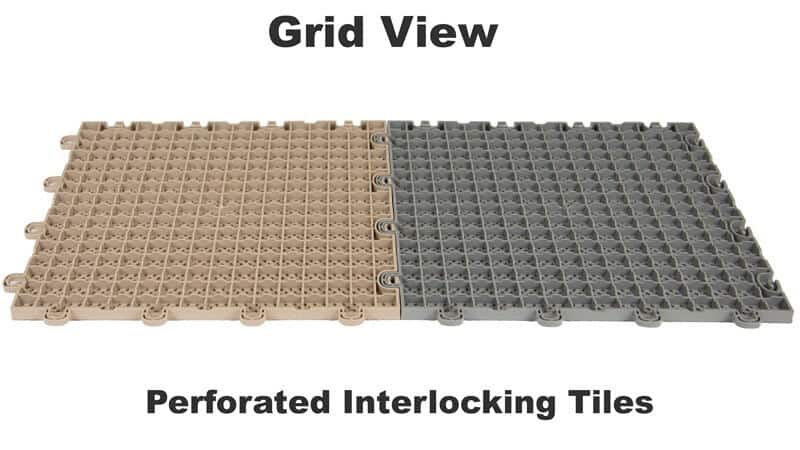 Flexible PVC Interlocking Garage Floor Tiles
Made from Flexible polyvinyl-chloride, also referred to as synthetic rubber, is a special type of PVC that is made to be flexible, yet profoundly strong.
Since the tiles are flexible, they should be used on a rigid surface.
Solid construction – there is no grid structure below the surface.
Anti-fatigue surface with acoustic insulation quality.
Feature a textured, slip-resistant surface.
Ideal for garages that have been converted to a gym, game room, or workshop.
Made in USA
Garage Floor Tile Edging
Interlocking ramp edges and corners to attach to 12×12-inch garage floor tiles and 18×18-inch Flexible PVC garage tiles.
Garage edging provide a transition for driving onto the flooring from your driveway.
The edges and corners are available with or without loops.
Ramp edges with loops are recommended when installation begins at the garage door opening.
Ramp edges with and without loops plus four corners can be used to create a garage floor mat.
Buy Garage Flooring
ModuTile Garage Floor Tiles are Proudly Made in the USA

Visit our garage product section to choose from various colors and designs.
Buy Garage Flooring
ModuTile Garage Floor Tile Reviews
ModuTile products have been proudly made in USA since 2011. We love hearing back from our valued clients and sharing their feedback with prospective customers. Here are some authentic reviews from happy customers. They continuously amaze us with their creativity and their practical uses of our tiles to solve their flooring issues.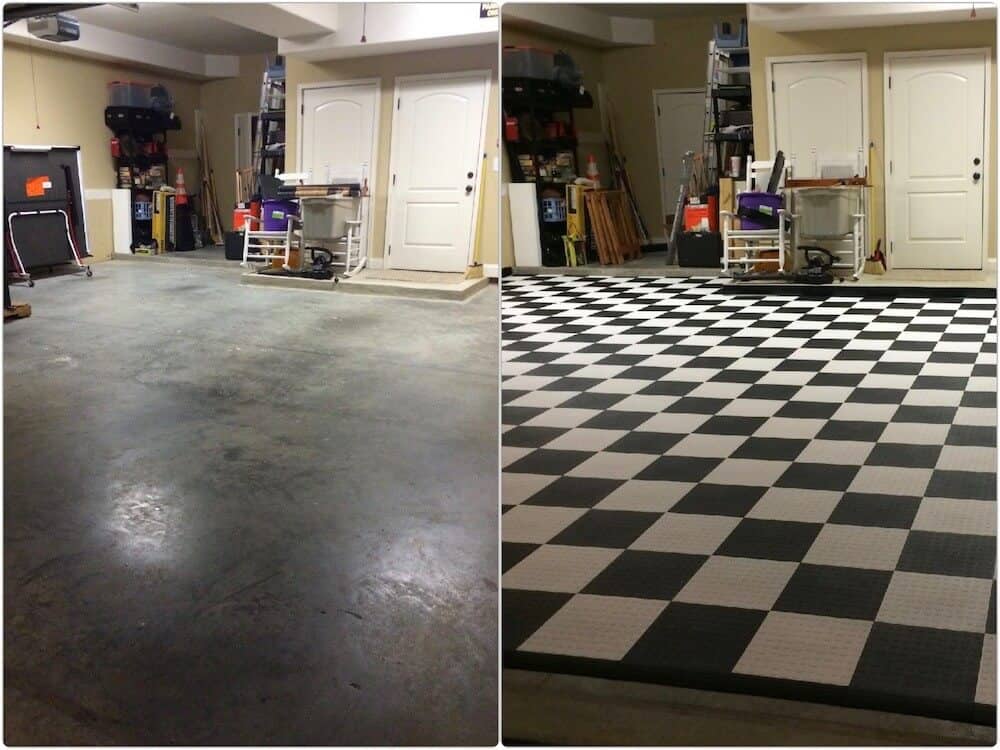 Every visitor has told us how much they love our new garage floor. I really enjoyed this project. I'm hoping my friends decide to finish their garage so I can help them.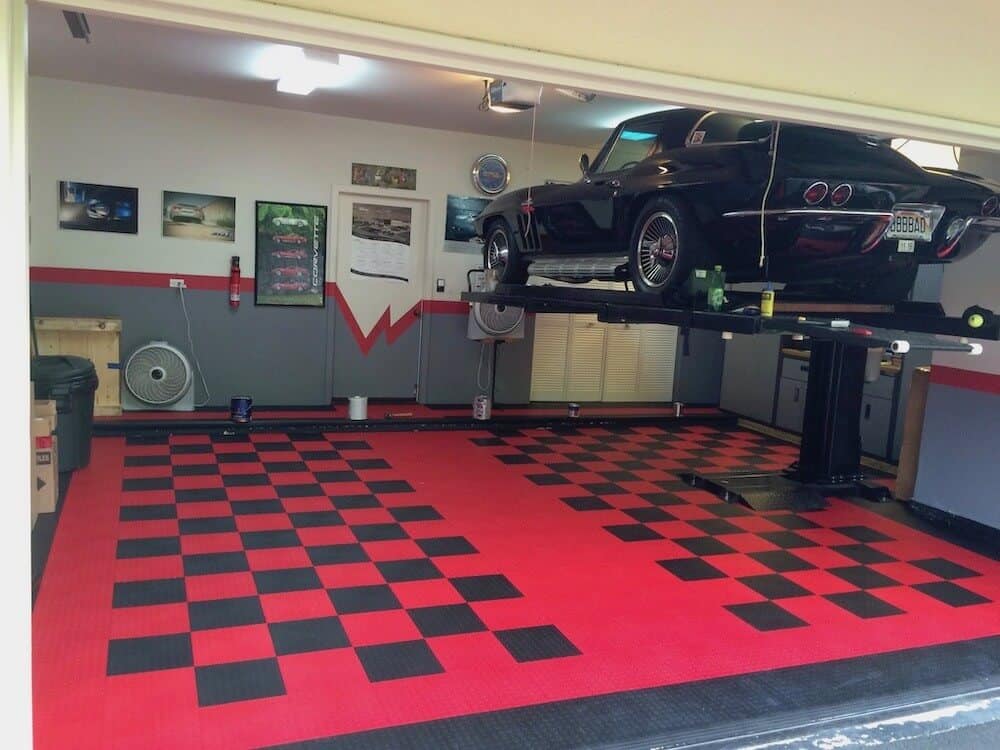 I recently installed your coin style tile in my garage and love it. Easy to install, took about 1 day for a 400 sq ft garage.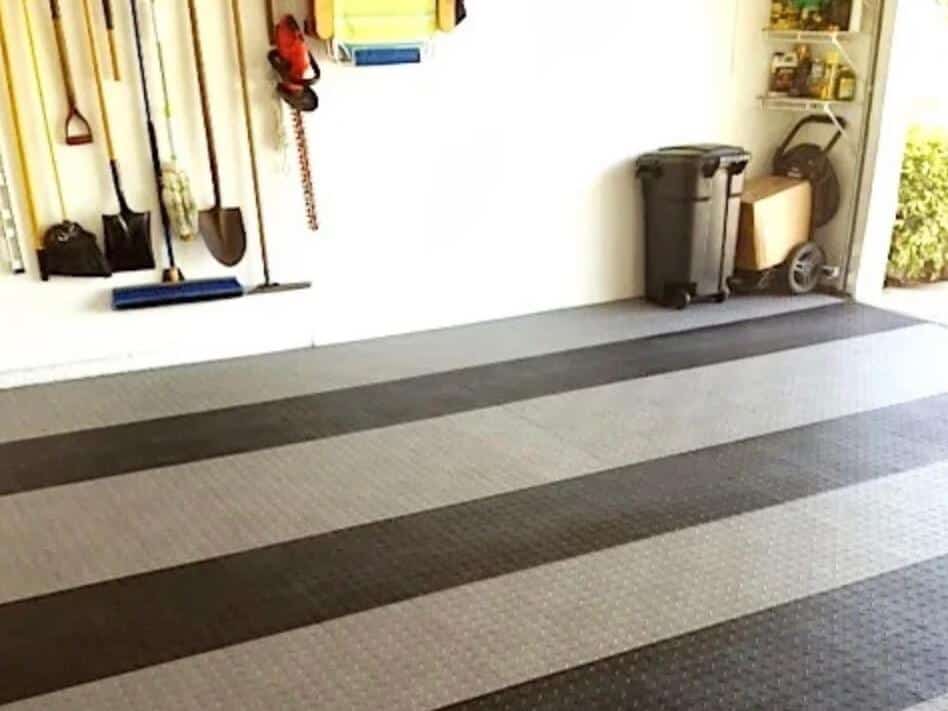 I had a standard 2 car garage with an epoxy covered floor. Over time the epoxy started peeling and coming up in large sections (a real mess ). I installed your diamond floor tiles over top and I couldn't be happier. It looks great.